Heading to Great Keppel Island? Lucky you! It's a beautiful part of the world. For somewhere easy to get to, it can feel quite remote and like you've left the world behind.
In fact, I think Great Keppel Island may be the most underrated spot in Australia. I have barely heard a mention of the place in many years, yet it is somewhere relatively easy to get to with comfortable accommodation which is well priced for the tropical island experience that is stunningly beautiful.
There really is no reason not to go!
However, there aren't many choices of where to stay – in fact, there are two! So the next step after deciding to go is to find the best accommodation Great Keppel Island offers for you. And that's what I will help you with here!
Great Keppel Island is a gorgeous place off the coast of Queensland near Rockhampton. A short, 30-minute ferry ride from Yeppoon has you in heaven! With 17 beaches, many walking tracks, snorkelling and wildlife viewing opportunities, it's easy to feel like you have this island to yourself. You won't want to leave.
In this article, I help you find the best Great Keppel Island accommodation for you by giving you all the information you need on the two options.
So whether you are looking for a Great Keppel Island resort or simply the best value option of accommodation on Great Keppel Island, I have you covered with the best place to stay in Great Keppel Island for you.
Great Keppel Island Accommodation
Both options of Great Keppel accommodation are located where the ferries land by the main beach area. Don't worry though – the island seems untouched and like not many people are around once the day trippers go home no matter how busy it is.
This makes it just as easy to reach either one, and they'll pick up your luggage from the boat – you don't even need to put a hand on it. You can walk to either one in a few minutes.
Note that neither of these options are Great Keppel Island resort hotel options. There is talk of opening up a big resort again but in the meanwhile, think of them as budget-style, comfortable and relaxing accommodation Keppel Island options.
Comparison Chart of Great Keppel Island Resort 2022 Options
Map Of Accommodation Great Keppel Island
The Great Keppel Island Hideaway accommodation is the perfect choice of Great Keppel Island hotels. I know because this is where we stayed!
At the Great Keppel Island Hideaway resort, you can find a great range of accommodation ranging from simple to quite comfortable in a lovely beachfront setting. There's also a gift shop at reception.
You'll find a fully licensed bar and a great restaurant on site with reasonable prices, and you won't want to miss happy hour – it has a great vibe, great music and great priced drinks with great views. What more could you ask for! For families, they also have a good kids menu.
There's a range of accommodation here including cabins, A-frame houses and more simple family/garden rooms.  Cabins have their own kitchen, bathroom, air conditioning and a shared BBQ. Walking between the rooms feels like you are in the jungle with nature all around.
Family rooms offer multiple sleeping capacities and are relatively simple with access to a camp kitchen and communal bathroom facilities. These can be very affordable sleeping up to 5 guests, and each room has air conditioning. Fresh linen is provided but towels and toiletries are not. Note that these are the furthest from the reception area.
I stayed in the garden triple room with my 4 year old. The room had a double and single bed, a small fridge, a water dispenser (it's not recommended to drink tap water), cupboard space, tea and coffee making facilities and a small bathroom with shower.
While it was on the simple side, it was comfortable, quiet and cool with a good air conditioner. I loved that there was no TV as it encouraged us to get more creative and spend extra time outdoors. There is also no wifi but it is available in the reception area.
The resort rooms at this Great Keppel resort stretch along the beach and it's never far to get to beautiful, calm waters. It's such a stunning location.
My only (very tiny) complaint at the Hideaway resort Great Keppel Island is I wish there were some taps by the beach or rooms so we could wash the sand off before going indoors.
Click here to see the latest prices for the Great Keppel Hideaway resort.
Note there can be Great Keppel Island accommodation packages including dining packages for $75 a day. However, the restaurant prices are reasonable and I found a booking room only on booking.com to work well.
Best Parts?
The location lining the beach, comfortable, quiet rooms and a good restaurant.
Worst Parts?
A tap to wash off the sand would be good. Free WiFi only available in the reception area.
Summary
We loved staying at this Great Keppel Island accommodation house and highly recommend it. It is great for families, couples, friends, solo travellers, everyone!
Click here for more information and the latest prices.
In keeping with Great Keppel Island's remote appeal, the accommodation at Great Keppel Island Holiday Village offers an opportunity to unwind and reconnect. Located in stunning leafy bush surroundings, it takes less than a minute to walk to one of the island's beautiful white sand beaches.
There are a range of room options here and you can find Great Keppel accommodation prices to suit every budget. Overall, their range of accommodation is mostly directed towards the simpler experience, ranging from very basic camping/glamping, to simple rooms and well equipped cabins. This is a great place to find Great Keppel Island accommodation deals. Note rooms do not have aircon but fans do a good job.
Their unique glamping accommodation includes a tent with either a double or 2 single beds with access to a shared bathroom. They also offer a separate campground if you're just looking for Great Keppel Island camping accommodation.
If you'd rather have your own bathroom then you can book either one of their simple cabins or the more comfortable and well equipped Dolphin Cabin complete with it's own kitchen and bathroom.
There is a very good communal kitchen here with great facilities like a microwave, gas cooker, rice cooker, big freezer, coffee plungers, kettle etc. There's no restaurant here, and as there is no supermarket on the island, you will need to bring all your food with you. The accommodation can help you have groceries delivered to the ferry with a Coles/Woolworths online order, and you can eat at the other accommodation.
Click here for more information.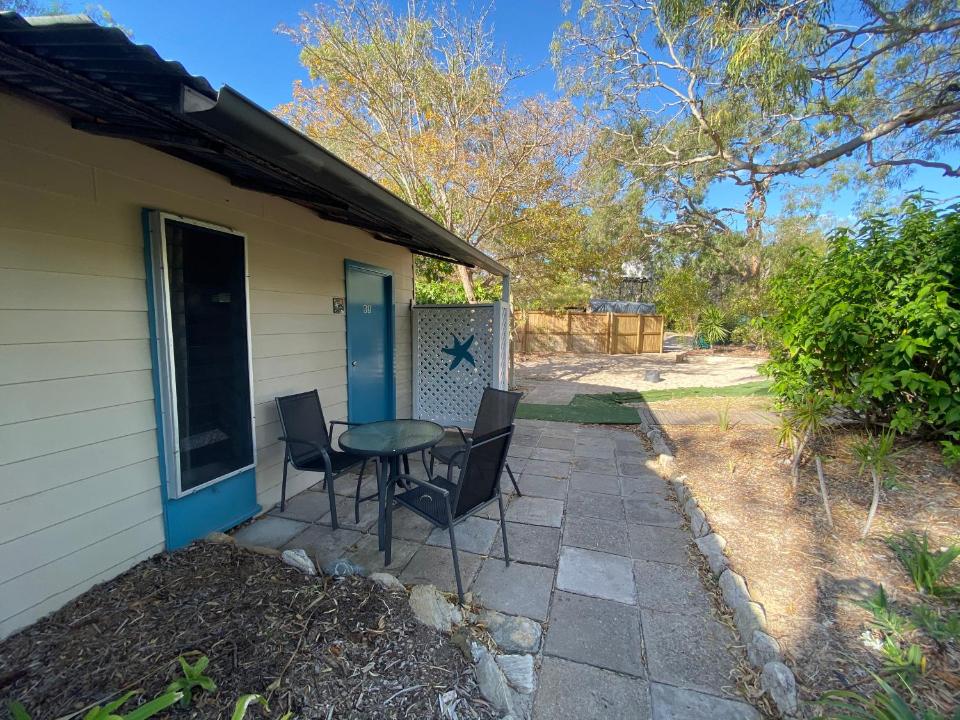 Everyone staying at the accommodation is given access to free snorkelling gear, wet suits and equipment for playing at the beach. However, you do need to bring a towel (or you can hire them).
With no wifi or tv, it really does feel like a place where you can unwind and connect with nature and other guests. Communal areas are kept spotlessly clean and are great places to connect with other travellers, and you'll find hammocks in the courtyard for lounging around.
This is really a place to relax in a super beautiful and friendly environment.
Best Parts?
The accommodation supplies snorkelling gear, wetsuits and other equipment for the beach. Some of the best Great Keppel Island accommodation prices are found here.
Worst Parts?
No restaurant at this Great Keppel Island holiday accommodation which means you need to bring food with you, however you can use the bistro at the other resort. No wifi. No aircon.
Summary
This hotel Great Keppel Island is a great place to leave the world behind and connect with nature and others. It has a great communal feel and the lack of wifi or TV makes it feel a world away.
Click here for more information and the latest prices.
Final Words
Both holiday accommodation Great Keppel Island options are great for experiencing the best of this island and it's beautiful beaches. Choosing between them really comes down to your budget and what you would like to experience while there.
Both are affordable and offer easy beach access and are great bases for exploring the multiple walking tracks. For slightly more convenience, you may want to opt for Great Keppel Island Hideaway but for more guest interaction and simple living, Great Keppel Island Holiday Village may be more suitable.
While you won't find accommodation Great Keppel Island resort options, either accommodation will offer everything you need for the relaxing getaway which Great Keppel Island is popular for!
Read our guide to nearby Rockhampton here and find more Queensland travel guides here.