The Great Ocean Road has to be the most famous road trip in Australia with the 12 apostles being maybe next in line as a famous Australian landmark after Uluru and the Sydney Opera House.
Add in the fact that this road trip is close to Melbourne, it can be completed in a day and there are tons of natural attractions great for families and you have an awesome adventure that you can easily take with kids. All members of the family will love a trip along the Great Ocean Road with kids!
To help you plan and execute a fantastic Great Ocean Road kids adventure, I have written this guide. We have visited this part of the world many times with our kids so I'm sure we can help you have a top Great Ocean Road family holiday!
Below, you will find our advice for a Great Ocean Road family itinerary, the best things to do on the Great Ocean Road with kids and the best places to stay on the Great Ocean Road.
Great Ocean Road Family Itinerary
The Great Ocean Road runs between Torquay, near Geelong, and Allansford, near Warrnambool, on the south western coast of Victoria. It's 243 kilometres long. The starting point, Torquay, is just over 100 kilometres from Melbourne.
The Great Ocean Road,as you would expect, runs along the coastline for much of its distance although the best views will be when you hop out of the car. See a map of the journey below.
I definitely don't recommend doing a Great Ocean Road day tour with kids with a tour company. It's a long day and it's better when you can go at your own pace, following their interests and making stops when you want to.
Unless you are looking for a Great Ocean Road itinerary with toddlers, I think one day is fine with older kids (just not ideal) as long as they are excited to make the journey. Otherwise, try to make it at least a weekend trip.
Places to stop along the way:
Bell's Beach – this famous surf beach in Torquay is a great place to start
Australian National Surfing Museum – with more time, this museum is worth a visit in Torquay.
Surf Coast Walk – this is 44 kilometres long which isn't a family friendly stroll. However, sections are great with kids like the Torquay Promenade and Anglesea Riverbanks
Great Ocean Road Chocolaterie and Ice Creamery – located in Anglesea, this is a great place to stretch the legs with a chocolate
Jumpz Anglesea – if you are visiting over a few days, the kids will love this trampoline park in Anglesea
Lorne Beach – this is a great place to stop for lunch with some fish and chips
Live Wire Park – if you are visiting the Great Ocean Road on more than a day trip, your whole family will love a couple of hours in the trees here
Erskine Falls – take a 15 minute detour from Lorne to view these falls. A short walk takes you to the top, a longer one to the bottom and there are other walks in the area.
Cape Otway Lightstation – take a detour of the main path to visit this iconic lighthouse
Twelve Apostles – the most iconic landmark on this road is up next. There are various viewpoints. Take your time
Loch Ard Gorge – not far from the Twelve Apostles, this is another great part of the coastline worth a photo
The Arch, London Bridge and The Grotto – these other coastal wonders are all close together after Port Campbell and are worth a stop
Mini Golf by the Sea and Lake Pertobe Adventure Playground – if you don't have to rush back to Melbourne, drive a bit further to Warrnambool to finish your adventure here. Your kids will love you for it!
There are also many other suggestions below.
If you have just one day, your itinerary can stop at all of the above apart from the stops I mention for longer trips. There are also small playgrounds in the bigger towns along the way if your kids need to let off some steam. And, of course, many beaches.
If you are breaking up your journey, go to everything and enjoy 🙂
Things To Do On The Great Ocean Road With Kids
Below are more details on the attractions above as well as some other Great Ocean Road for kids attractions.
Bell's Beach
Located nearby Torquay, along the Great Ocean Road, high cliffs provide a natural amphitheatre for what is arguably Australia's most famous surfing beach – fabulous whether you're surfing or just passing by.
Large swells roll in from the Southern Ocean – which slow and steepen across hidden reefs in the shallows – producing world-class surf! Each Easter the Rip Curl Pro Bells Beach international event is hosted here, with the winner achieving one of surfing's greatest achievements.
As the beach is an exposed reef, the surfing is only for the experienced – but makes for great spectator entertainment. Aside from this, you'll find that there isn't too much beach area at Bells – mostly just the beautiful cliff-face – however, have your camera at the ready to snap surfers and stupendous views from vantage points along the cliffs.
To reach Bells Beach, travel along the Great Ocean Road past Jan Juc – turn left into Bells Boulevard and follow the signs.
Australian National Surfing Museum
The Australian coastline stretches over thirty-four thousand kilometres, with more than ten thousand beaches – including the iconic Beach Bells, Crescent Head and the super bank at Snapper Beach. Cowabunga dude! It should therefore come as no surprise that the country is home to one of the most celebrated surfing museums – the Australian National Surfing Museum.
Dreamed up by surfers Peter Troy, Vic Tantau and Alan Reid, the museum opened in December 1993 showcasing Australia's deeply ingrained surf culture through exhibitions and memorabilia. Visitors can check-out the Australian Surfing Hall of Fame, including a display of surfboards ridden by surfing legends, career facts and surfing milestones.
Learn how surfboards are made, from Malibu to high-performance shortboards. Stroll through the Board Room discovering how over the years designs improved, or browse through artifacts and collectibles, including vintage photographs and trophies.
The International Surfing Association recognises the museum as one of the most significant centres of surfing heritage in the world, making a stop-over here well recommended.
Discover more here.
Address: 3228/77 Beach Rd, Torquay
Surf Coast Walk
The Surf Coast Walk is a 44 kilometre track which starts near the beginning of the Great Ocean Road in Torquay and finishes in Aireys Inlet. It passes through coastal towns along the Great Ocean Road while still having sections surrounded by nature.
What is fantastic about this walk is that there are many smaller sections perfect for everyone no matter what their needs or interests. You can choose to take a one hour stroll along a flat coastal area or the whole 44 kilometre journey.
There are many access points to the trek so you can choose the most convenient one for you and your family. Some good options for families are the Anglesea Riverbanks Walk which is an easy 1.6 kilometre walk around the Anglesea riverbanks or the Aireys Clifftops walk which starts at the end of Boundary Road in Aireys Inlet and finishes 2.6 kilometres later at the Split Point Lighthouse.
You can find more details and maps for these walks here.
Great Ocean Road Chocolaterie and Ice Creamery
For chocolate lovers (or kids who need a great reward for good behaviour!), this is a must-do stop on the Great Ocean Road.
Located just before Anglesea on the Great Ocean Road itself, this big chocolate showroom is full of delicious treats. Even better is that they make the chocolates on site and you can watch from inside the shop.
There are free tastings available and a huge range of chocolate products. I especially recommend the dark chocolate turkish delight. So delicious!
They also run chocolate tasting and making workshops and a special high tea.
Click here for more information.
Address: 1200 Great Ocean Road, Bellbrae
Bounce At Jumpz Anglesea
This outdoor trampoline park is perfect for kids in the heart of Anglesea.
Located at the back of the Great Ocean Road Resort, you will find tons of trampolines organised in a big rectangle with tilted trampolines also lining the sides of the park for ultimate bouncing fun!
Next to the trampoline area is a deck area where family members can eat a snack or have a drink from the kiosk. There are also BBQs and bocce courts as well as some games if you can pull the kids away from the trampolines.
Unfortunately, it was raining during our last visit so the area was shut but you can still see what you will find in the photo above. Passes are available in 30 and 60 minute sessions.
You can find more information on their site here.
Address: 105 Great Ocean Road, Anglesea (in the Great Ocean Road Resort)
Lorne Beach
Lorne is one of the first towns on the Great Ocean Road and a popular tourist destination for surfing, pier-fishing, swimming and camping. A mixture of cafes and boutiques along the main thoroughfare creates an almost Mediterrean feel, with diners looking across a wide foreshore that leads down to the patrolled sandy beach and glimmering waters of Louttit Bay.
With some of the region's best dining options, Lorne's cafes serve mouthwatering pancake breakfasts and healthy lunches, alongside epic sea views. And in the evening, enjoy alfresco rooftop dining with farm-to-table and local produce. Healthy living!
The biggest Lorne attraction is without doubt the wonderful 1.2km beach. Plunge into the deep blue sea, protected from incoming waves by the Point Grey buff, learn to surf in the calm waters or simply sunbake the day away.
If you prefer fresh water, take the family to The Lorne Sea Baths, nestled right along the beachfront. You'll find a pool, gym and spa (salt therapy rooms and hydrotherapy), and great entertainment for the children with trampolines, mini golf and bumper boats.
Before you leave, take a walk along Shipwreck Trail – an easy 1km shoreline path.
Live Wire Park
If you want to enjoy the natural bush surrounds while travelling the Great Ocean Road, Live Wire Park in Lorne is a great place to stop to zoom around the bush and climb high in the trees!
We have a lot of fun here and it's definitely worth the stop if you can make the time for adults and families.
The park itself has a range of circuits. The two main ones are called the Super Circuit (for adults/teenagers) and Short Circuit (for kids 110cm+). These are both obstacle courses with swinging planks, ladders, zip lines and more high in the bush. It is designed to test your balance and problem solving skills (and to have a ton of fun!).
Our 8-year old son did the Short Circuit. He is usually very cautious and it surprised us when he wanted to do this but he absolutely loved it and had a great sense of accomplishment.
For fun for all ages, there is the Spring Circuit which is a series of elevated trampolining areas in nets. There are small balls to play with and other things and we easily spent an hour in here. The only downside is that it's hard for younger ones to keep balance and enjoy it if there are older kids and non kid-friendly adults in there. Toddlers (that were visiting when we did) did not enjoy it as much but it was great for our just turned 4-year old.
There is also a Canopy Circuit which is a wooden walkway in the trees. It rocks as you walk and is fun for a family although it is over quick.
Finally, you can zoom around in the Shockwave Zip Coaster which is a 525 metre long zipline. Kids can use it from 10. It's a good one for kids as I did not find it as thrilling as I expected, but my 10 ten year old thought it was great.
Every family member entering the park needs to pay entry which includes the Canopy and Spring Circuits. You can then pay for whatever other activities you want to do. I highly recommend trying one of the big circuits.
Click here for more information about the activities at Live Wire Park.
Address: 180 Erskine Falls Road, Lorne
Erskine Falls
The Erskine Falls are a short drive from Lorne and an easy way to experience the natural beauty of this area with a range of walks including short and easy ones that are great with kids.
The falls themselves are a 30 metre drop surrounded by rainforest. There is a sealed road to the car park and then it's just an easy 5-minute walk to the top viewing platform.
From here, you can choose to walk down to the bottom of the falls. This is also a relatively quick walk taking only about ten minutes, but the 240 steps are more challenging on the way back up. Still our 4 year old walked it without many complaints.
From the bottom, you can also hike back to Lorne on a 7.5 kilometre trail.
Address: Erskine Falls Access Rd, Lorne
Teddy's Lookout
For some great views while you are in Lorne, head to Teddy's Lookout.
A short walkway takes you to a viewing platform for views of the coast and the mouth of the Saint George River. This is an easy spot to visit even with little kids.
Address: 53 George St, Lorne VIC 3232
Marriner's Lookout
Another lookout worth visiting as you make your way along the Great Ocean Road is Marriner's Lookout just before Apollo Bay.
It's a short drive from the main road and then a nice 10-minute walk to the lookout. It does go slightly uphill the whole way although our kids did not struggle. You are rewarded with great views up and down the coast at the top.
Address: 155 Marriners Lookout Rd, Apollo Bay
Cape Otway Lightstation
The oldest surviving lighthouse on mainland Australia, a visit to Cape Otway Lightstation is a must for all visitors travelling along the Great Ocean Road and this notorious stretch of Shipwreck Coast.
Hundreds of lives were lost until 1848 when the lighthouse was constructed at the cliff's edge. Sitting at 90 metres above where the Bass Strait and the Southern Ocean collide, it became known as the "Beacon of Hope" for many thousands of 19th-century migrants travelling to Australia by ship, as the lighthouse was their first sight of land.
Today, visitors can enjoy a self-guided exploration of the lighthouse and children will thrill at History Talks about the tragic shipwrecks. Discover Australia's extraordinary secret world war history from WWII at the historic Telegraph Station, and bush tucker and storytelling sessions from local guides are available at the Aboriginal Meeting Hut.
Looking for a unique place to stay – checkout the historic Lightkeeper's Cottage.
Located a short drive off the Great Ocean Road, through serene forests where you're almost guaranteed to see koalas add this to your list of stop-overs!
Twelve Apostles
Alongside Australia's Great Ocean Road, rising out of the Southern Ocean, you'll find the rugged and famous 12 Apostles, one of Australia's most famous landmarks.
Once connected to the mainland, the waves and wind have battered them into caves, arches and finally awesome 45-metre limestone stack pillars.
Today eight – yes, not twelve thanks to Mother Nature – can still be admired. Best viewed at dawn or dusk, and gorgeously captured on camera when viewed from the Arch (see below), these famous pillars change colours throughout the day. As the sun rises, golden colours spill across the rocks, tinted with reds and pinks; and at sunset the sky is filled with burnt orange and lavender hues that fall across the rocks producing an amazing rainbow effect!
Start your exploration at the Twelve Apostles Visitor Centre, where you'll find a large parking area and a tunnel that will take you under the Great Ocean Road to the extensive boardwalk and viewing platforms.
Treat the family to a 15-minute helicopter flight, whizzing up and back the length of the 12 Apostles. And kids will all surely love the waddling penguins that return after sunset to their burrows below the main lookout. Camp through the night to catch the 12 Apostles in their wonderful morning glow and avoid the heavy daytime crowds.
If travelling with older children there are many hikes to enjoy around the 12 Apostles. We recommend the 7km moderate walk commencing from Princetown as the interesting trail crosses boardwalks, crushed gravel, steps and rubber tyres! All the family will love the stunning coastal views, kangaroos and birdlife.
The jewel in the crown of the Great Ocean Road and the number one visited attraction in the region, catch the 12 Apostles early or late in the day.
Other Scenic Stops – Loch Ard Gorge, The Arch, London Bridge and The Grotto
Along the coast, including the 12 Apostles, there are in fact thirty different limestone masses waiting to be discovered.
Just three minutes west of the 12 Apostles you'll find Loch Ard Gorge. One of the most famous wrecks in the area, Loch Ard was a cargo ship bound for Melbourne. Hit by a wave of thick fog whilst traveling through the Bass Strait in 1878, with the crew blinded, it smashed into the treacherous cliffs off Mutton Bird Island. Only two passengers survived, both washed up on the beach which is now known as Loch Ard Gorge in honour of the fallen vessel.
Today, there is no wreck to see, but the majestic and picturesque gorge is flanked by two yellow-washed cliff faces surrounded by an inlet of clear blue water. Jagged cliff tops, a bracing sea breeze and acres of bushland make for great trekking options. Check-out the map at the main car park for walking trails, including our favourites Geology Walk and Loch Ard Wreck Lookout.
Fifteen minutes further along the coast you'll find The Arch, an astounding formation drilled out of the limestone rock by centuries of crashing waves. From the car park it's only a couple of minutes walk to viewing platforms. Have your cameras at the ready as The Arch is particularly spectacular in rough seas, then turn around for some awesome photos of the 12 Apostles.
Back in the car only 1km, you'll reach London Bridge, another offshore rock formation. Originally a natural archway and tunnel, it partly collapsed in 1990 and is now a bridge without a middle.
Finally, though you might have had your fill of rock formations, do make the 2km drive to reach The Grotto. Essentially a sinkhole, this surreal site is possibly the most enchanting of all the rock formations – part blowhole, part-archway, part-cave!
Halfway down the cliff, reachable via a long boardwalk with steps down from the road-level viewing platform, inside the Grotto you'll find smooth boulders and calm rock pools. Visit here in good weather, ideally when the wind has dropped and the tide is low, and at sunrise or sunset.
Flagstaff Hill Maritime Museum And Village
Discover the history of the area with a visit to the Flagstaff Hill Maritime Museum and Village. Designed around the 1858 state heritage listed Warrnambool Lighthouse, it has recently completed a major redevelopment and features interactive digital installations throughout the village.
Wander the Recreated Maritime Village, featuring 40 buildings containing rare objects and costumed characters ready to relate the stories of old. Kids will thrill at the "Shipwrecked" Sound and Light Show, telling the sad story of the Loch Ard shipwreck, and Harpooned – Warrnambool's Whaling History – that dazzles with amazing light and sound effects.
At the Maritime Museum join a guided tour of the region's largest maritime and shipwreck collection, including the $4 million Loch Ard Peacock – a priceless relic from the wreck of the Loch Ard.
Stay for the evening and witness the Nightly Sound and Light Show Experience, telling tales of the Shipwreck Coast's history with the help of an impressive 9-metre water wall!
Discover more here about this family-favourite attraction on the Great Ocean Road.
Address: 89 Merri St, Warrnambool
Lake Pertobe Adventure Playground
A year-round family attraction, this 8 hectare adventure playground is paradise for kids! Giant slides, flying foxes, a maze, skateboard park and boat rides… Walking tracks, lakes, superb picnic and bbq areas all combine to make this a fun stopover on the Great Ocean Road.
Located in Warrnambool, directly opposite from the main beach (and in summer, the carnival), there is no shortage of fun here.
Address:Pertobe Rd, Warrnambool
Mini Golf by the Sea
Located adjacent to the Lake Pertobe Adventure Playground, try your luck at this fun mini-golf course.
18 holes challenge your family at this seaside venue. Try for a hole in one and win a free game! Fun for all ages and abilities.
Address: 47 Pertobe Rd, Warrnambool
Otway Fly Treetop Adventures
Otway Fly Treetop Adventures takes your rainforest experiences to new heights!
In the lush and magnificent Otway Ranges, twenty minutes from the Great Ocean Road, you can soak up breath-taking birds-eye views of the rainforest at the Treetop Walk. At 600 metres long and 25 metres-high, this elevated walkway offers stunning views of the region's beautiful flora and fauna.
Taking approximately one hour to walk through, the highlight is the 45 metre Spiral Tower and cantilever perched above Young's Creek. Here you'll gently sway with the rainforest canopy, feeling in touch with Mother Nature.
If all that sounds too easy, we dare you to ride the awe-inspiring Otway Fly Zipline Tour. Zip through leafy treetops from one "Cloud Station" to another, suspended up to 30 metres above the forest floor. This 2h30m ride takes you through eight cloud stations, six flights and two suspension bridges… An extreme rainforest experience we're sure you won't forget in a hurry!
For younger visitors, why not become a Rainforest Ranger for the day? Kids can experience the lush outdoors on the new Rainforest Ranger interactive trail. Discover the secrets of the rainforest whilst searching for ancient tree species and keep an eye out for the region's unique wildlife.
Discover more here.
Address: 360 Phillips Track Beech Forest, Weeaproinah
You can find more information about things to do in the Great Ocean Road in my guide to things to do in Anglesea here.
Best Places To Stay On The Great Ocean Road
There are many options for where to stay on the Great Ocean Road so you won't have trouble finding something. In fact, the far bigger problem is narrowing it down!
Picking the perfect spot depends on how long you have and whether you want to break the journey up along the way or are happy to stay at any part of the Great Ocean Road.
Anglesea
We find Anglesea a good spot to spend the night when we are heading down on a Friday after school. It means we can get there around dinner time and can be all set to explore the next morning without being tired. It has many restaurants, a great beach and some fun, low-key attractions.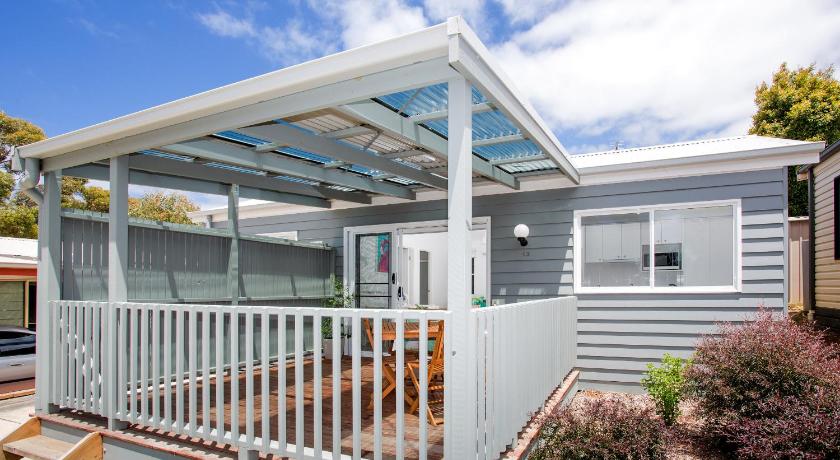 Terrific fun for all the family, the Big4 Anglesea Holiday Park features an awesome heated indoor water complex (with waterslide, waterfall and wet play area), a new adventure playground, jumping pillow, cinema room, games room, toddler playroom and a giant chess set! Oh, and not to forget the grazing kangaroos, beautiful gardens, kookaburras and parrots!
Less than 10-minutes walk from the Anglesea River, the holiday park offers fully self-contained accommodation in all shapes and sizes: 2 or 3-bedroom cabins, spa and suite cabins, and safari or bell tents. Pitch your own tent at the onsite camping area or set up your campervan/holiday home at the powered grass sites.
Friendly staff will help you with the onsite BBQ/cooking facilities, and you'll find a super-clean shower block. Special deals – such as stay 3 nights, pay for 2 – are often available.
Check here for details and reservations.
You can find more options for where to stay in my guide to Anglesea accommodation here.
Lorne
Lorne is one of the first towns on the Great Ocean Road and a popular tourist destination for surfing, pier-fishing, swimming and camping.
In summer season, the town swells with weekend getaway visitors travelling in from Melbourne, and often plays host to festivals such as the Great Ocean Road Marathon and the New Year's Eve Lorne Falls Festival (celebrating music and arts) and the infamous Pier to Pub swim, when up to 4,000 people take a swim in the ocean and finish in a pub!
Combining excellent leisure facilities with luxury accommodation, Cumberland Lorne Resort sits directly across from glorious Louttit Bay. Nestled between vibrant restaurants and boutiques, the resort offers some of the most luxurious accommodation along the Great Ocean Road.
Stay at spacious one or two-bedroom apartments, or splurge on family-favourite split-level two-bedroom penthouse apartments with amazing sea views. All apartments are fully self-contained with a private balcony, large open-plan living area, stocked kitchen and bathroom with corner spa.
Facilities include a fully equipped gym, heated indoor swimming pool, spa and toddler's pool, sauna, grass floodlit tennis courts, squash court and games room.
With Lorne Beach and Lorne Sea Baths opposite, it can be hard to pull the kids away for road trips!
Check here for details and reservations.
Apollo Bay
Base yourself at Apollo Bay for your Great Ocean Road adventure. A tranquil seafood village, surrounded by rolling green hills and secluded beaches, the slower pace of life hooks visitors.
Deep-sea fishing, surfing, kayak tours, diving, beach horse rides, gift shops, galleries and teahouses will keep you and the family entertained. And nature beckons on your doorstep at the Great Otway National Park and along Barham River – let the kids search amongst the rocks for fresh lobsters!
Apollo Bay is your gateway to coastal walks, petrified forests, waterfalls, ferns and crystal clear streams. Epic Australia.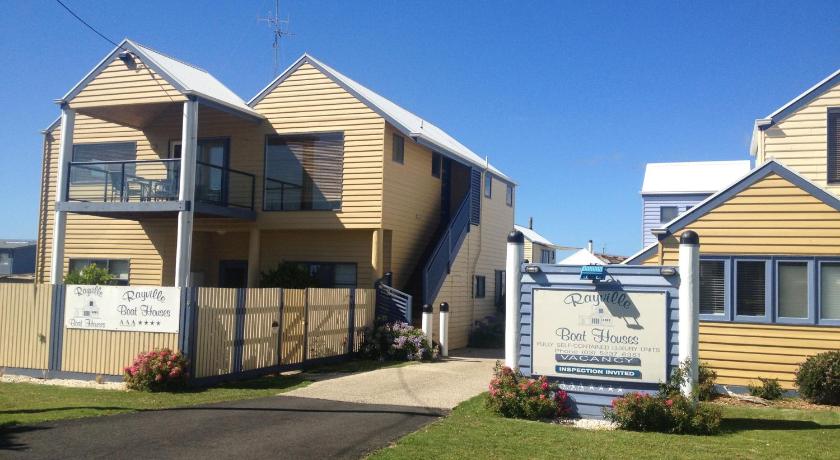 A top pick for your stay in Apollo Bay, Rayville Boat Houses provide fully self-contained deluxe villas with a magical nautical theme! Set on the ocean-side of the Great Ocean Road, these stylish houses are stand-alone villas.
Check-in at the communal Reception, where you'll pick up some handy leaflets and advice for your Great Ocean Road tours, and check-in to your own villa. Modern and tastefully decorated, the villas have a cozy wood-fire, large corner spa, private balcony, full kitchen, individual car-port and air-conditioning.
Terraces on the Ocean-View villas face towards the sea, whilst the romantic Deluxe Loft and 2-Bedroom Villas provide a view of Apollo Bay's amazing ranges. Free WiFi, golf clubs for the adjacent golf course, fishing equipment and wood for glorious evening fires are all included.
Walking distance to the town, enjoy the quieter location and fall asleep to the sound of the waves.
Check here for details and reservations.
Final Words
It's easy and fun to explore the Great Ocean Road with kids and it's the perfect weekend trip from Melbourne, a longer school holiday trip or a fun area to explore between Melbourne and Adelaide. Whether you are exploring the Great Ocean Road with toddler, teens or any age in between, I hope you found this guide useful!
Read more of our Victorian travel guides here. You can also find my guide to all the best things to do in Anglesea here as well as our guide to the best family accommodation in nearby Warrnambool here.