Heading down the coast and looking for all the things to do in Anglesea, Australia?
Lucky you! Anglesea is a great place perfect for a fun weekend trip or a longer stay. It is our favourite place to visit on a weekend trip from Melbourne.
Even luckier is that you have landed here – on our full Anglesea travel guide. Here we share all the best answers to what to do in Anglesea, Victoria.
Anglesea is a quick 1.5 hour drive from Melbourne which makes it quite a popular destination especially as it's also located on Australia's most famous coastal drive, the Great Ocean Road.
This can make it a great place to base yourself while exploring the region or it also makes a fun holiday destination in its own right with great beaches, scenery and nature. It's a perfect place to escape from the city!
To make the best of your time in Anglesea, below you will find our full Anglesea travel blog with everything you need to know about all the Anglesea things to do as well as tips for where to stay, how to get to Anglesea and some extra advice for families travelling to Anglesea.
Top 15 Things To Do In Anglesea, Victoria
Here are the best things to do around Anglesea. Read through and select the ones that fit your interests and timeframe.
Swim And Play At The Beach
If you visit in the warmer months, you won't want to miss a visit to the beach. Although it's a nice place to be in the cooler months too!
This things to do Anglesea will suit all ages and types. You can build a sandcastle, enjoy a walk along the coastline or have a splash, swim or surf.
The beach is 400 metres long and located by the mouth of the river. It is easy to reach from anywhere in town and there are a few parking areas. On a busy day, it may be easier to park along the river and walk. Waves average around 1 metre.
Bounce At Jumpz Anglesea
Address: 105 Great Ocean Rd, Anglesea
Opening Hours: 10am to 8pm
Price: Starts at $15 (Single Session)
This simple trampoline park is lots of fun! At this one of the Anglesea attractions Victoria, you will find tons of trampolines all laid out together as well as ones tilted on their sides for tons of jumping fun!
Located at the back of the Great Ocean Road Resort, anyone can visit. There is a deck area next to the trampolines where older members of the family can relax and watch with a drink or a snack from the kiosk. There are also BBQs and bocce courts if you can pull the kids away from the trampolines.
Unfortunately, our last visit was in wet weather so it was shut but you can still get a good idea of what you can find here from the photo above.
Find more information on their site here. You can buy 30 minute or 60 minute session passes.
Address: 105 Great Ocean Road, Anglesea (in the Great Ocean Road Resort)
Visit Bellbrae Estate
Address: 520 Great Ocean Rd, Bellbrae
Opening Hours: 12pm to 5pm (Wed-Sun)
Price: Starts at $10
Your first taste of the Great Ocean Road! Set on a beautiful section of rolling hills in the Geelong wine region of Victoria, only five minutes from Bells Beach, the Bellbrae Estate Winery opened in 1999. A boutique family-owned vineyard and cellar door, the estate enjoys a cool, maritime climate and produces elegant wines such as Chardonnay, Pinot Noir, Sauvignon Blanc and Shiraz.
The Cellar Door offers wine tastings, wine sales and often special offers pairing wines with locally made produce, such as home-made pies, cheese boards and share platters.
Live music and special programmes are regularly held on Sunday afternoons in October through to April. Check their website and ensure to pre-book as these are popular events! Alternatively, take a picnic and enjoy the delicious wines whilst admiring the gorgeous views.
Discover more here.
Free Chocolate And Ice Cream Tastings At Great Ocean Road Chocolaterie And Ice Creamery
Address: 1200 Great Ocean Rd, Bellbrae
Opening Hours: Daily from 9am to 5pm
Price: Starts at $5
If you love chocolate, this is sure to be your top pick of the things to do at Anglesea!
Located just before arriving in Anglesea on the Great Ocean Road, this chocolate factory isn't just delicious but interesting too as you can watch them making the chocolates from inside.
You can also do some free tastings as well as choose from many chocolate products in the huge shop. There is also a dining area and they run chocolate making and tasting workshops as well as a special high tea.
I can especially recommend the dark chocolate turkish delight. So delicious! You won't regret a stop here!
Click here for more information.
Explore Coogoorah Park Nature Reserve
Address: Coogoorah Park, 21A River Reserve Rd, Anglesea
Opening Hours: 8:30am to 5pm (M-F)
Price: Entry is free
Coogoorah Park Nature Reserve is the perfect place to visit to take a bush walk, play at a great playground or do some fishing.
Located up the Anglesea River, this is an easy one of the Anglesea Victoria attractions  to visit as it's easy to reach in minutes from the centre of town but feels far removed, especially as it can still be relatively quiet when there are zillions of people in the beach part of Anglesea.
There are some different tracks around the reserve as well as several pretty bridges across the river. It's a nice place to wonder and play. There are also BBQs which makes it a great place for a picnic lunch.
Address: 21A River Reserve Rd, Anglesea 
Meet The Local Kangaroos At Anglesea Golf Course
Address: Golf Links Rd, Anglesea
Opening Hours: Daily from 10am to 8pm
Price: $12.50
One of the most fun parts of visiting Anglesea, particularly with kids or people from outside Australia, is that kangaroos can suddenly bounce past when you least expect it. It's very cool!
A good place to spot kangaroos as at the Anglesea Golf Course who sometimes run Kangaroo Tours to take you around the kangaroos on site as well as sharing facts about these fun creatures.
You can find more information here.
Address: Golf Links Road, Anglesea
Hike The Surf Coast Walk
The Surf Coast Walk is a 44 kilometre walk from Torquay to Aireys Inlet. It takes you through the coastal towns along the Great Ocean Road while still having sections surrounded by nature.
There are many points where you can join and leave this walk so it's perfect no matter what your ability or interests – you can choose to hike for days or for a couple of hours or even just through one town.
In Anglesea, you can take the Anglesea Riverbanks Walk which is an easy 1.6 kilometre walk around the Anglesea riverbanks. You can start at the visitor centre.
There are also many other options in and around Anglesea. You can find maps and details of all your options here.
Have A Picnic At Loveridge Lookout
If you're wondering what to do Anglesea in for lunch, why not have a picnic with a view?
Pack a lunch and head to Loveridge Lookout. This lookout was built in 1938 and served part of its life as an observation post during WW2. Recently restored, the lookout has plaques with some information on its rich history and offers stunning views over the Bass Strait.
There isn't much else to do here but it's worth adding to your list of what to do Anglesea as somewhere to slow down and take in the scenery.
Take A Gentle Paddle Down The Anglesea River
Located in the centre of town, the idyllic Anglesea River is home to many water sports and activities.  The river links more than 16 hectares of parkland with the ocean and is a wonderful spot for an afternoon's paddle.
Local flora and fauna, including dozens of types of orchids, make the area a spectacular sea of colour during late winter and spring.  Discover the bird life in Coogoorah Park and look out for koalas in the trees.  Native wildlife includes owls, possums, echidnas, kangaroo and wallabies, as well as many fish.
Hire a modern paddle boat, canoe, or a fun aqua bike – slip on your life jacket – and you're all set for a great river paddle.  Make it a family affair, as many of the boats can carry 2 adults and a small child.  You'll spot many bbq and picnic tables along the river, so don't forget to take your lunch!
When it comes to whats on in Anglesea, a lovely Sunday market can often be found on the riverbank from November to April, with local stalls offering fresh produce, gifts and novelty items.
Eat The Famous Jums Chicken
Address: 77 Great Ocean Rd, Anglesea
Opening Hours: 10:30am to 4:30pm (W-Th-Su), 10:30am to 7pm (Fri-Sat)
Price: –
Jums Chickens has become an Anglesea institution and it is very well known for its chickens and chips and gravy.
This makes it the perfect place to stop for some takeaway lunch if you are just visiting Anglesea while exploring the Great Ocean Road or for a quick dinner during your time in Anglesea.
Climb The White Queen
Address: Federal Street, Aireys Inlet
Opening Hours: Daily from 10am to 3:30pm
Price: $10
Just a few minutes down the road from Anglesea is the famous Split-Point Lighthouse at Aireys Inlet. Nicknamed the "White Queen", the lighthouse offers some of the best views of the coast and is one of the must-see things to see in Anglesea.
Almost impossible to miss as you travel the Great Ocean Road, the lighthouse offers a 45-minute tour covering the maritime history of this Shipwreck Coast region, and gives you the chance to visit the top for truly breath-taking views.
You'll be amazed at the history of this dangerous and wild coastline where sadly hundreds of ships have crashed. The lighthouse is still today a vital signal for vessels, helping to guide ships through the treacherous waters of the Bass Strait.
Weather permitting, open daily. If you're lucky you might spot dolphins or whales from the top balcony! Discover more here.
Fly Above The Trees At Live Wire Park
Address: 180 Erskine Falls Road, Lorne
Opening Hours: Daily from 9:45am to 5pm
Price: Starts at $18
If you want some outdoor adventure, it's worth the 35-minute drive to Live Wire Park in Lorne to zoom around the bush and climb high in the trees!
This is one of my favourite Anglesea tourist attractions as it is just so much fun!
The park consists of a range of circuits. The main ones are the super circuit for adults and short circuit for kids. These are a range of obstacle courses in the forest including short zip lines, ladders, planks to walk across and even a short bungy jump in the adult circuit. It will test your balance and problem solving skills.
There is also a canopy circuit which is a wooden walkway in the trees which moves around as you walk. The spring circuit is a series of elevated trampolining areas with nets and some big balls and other fun things to bounce around with.
The highlight may be the Shockwave Zip Coaster which is a 525 metre long zipline that you can zoom around from age 10. I enjoyed this but did not find it as thrilling as I expected.
There is an entry charge for everyone coming to the park which includes the spring and canopy circuits. You can also choose to purchase passes for the other attractions which I recommend you do except for younger kids.
We visited with our family of five and I would say it's great for all ages 4+. Younger kids can enjoy the spring and canopy circuits but the canopy circuit is quite short and quick and the spring circuit can quickly get scary for little kids when there are older kids using it as well. Kids need to be at least 110cm tall  to go on the short circuit (and I'd say at least 6 years old) or 10 for the zip coaster. We all had a fabulous time.
Find more information about the activities at Live Wire Park and get tickets here.
Learn To Surf
Address: 143B Great Ocean Road, Anglesea
Opening Hours: Daily from 9am to 5pm (hours extended in summer)
Price: $75 for a 2 hour lesson
One of the most popular things to do in Anglesea Victoria is surf. If this is new to you or you need to brush up your skills, a 2 hour surfing lesson is what you need.
Go Ride A Wave in Anglesea Australia offers popular surfing lessons to suit your skill level (whether you're a beginner or otherwise) with a knowledgeable instructor and all the equipment (surf board, wet suits etc) included. These lessons are awesome and will have you surfing in no time! They also offer other lessons and equipment hire if you want to try something else or go surfing alone.
While it may not be at the top of your list of things to do in Anglesea in winter, they do operate year round and warmer suits are available in winter.
Plus, if you find yourself loving the experience, you may want to add a Surf Course to your Anglesea to do list. This gives you a total of 3 lessons and 12 online modules to complete for only $205!
Explore The Otways
Address: Great Ocean Road, Lorne
Opening Hours: Daily from 10am to 5pm
Price: $25
Discover some of Australia's best rainforest scenery at the Otway Ranges, with tall trees, ancient plant life and lush ferns. Stroll amongst giant tree ferns at Maits Rest, amaze at the glow worms at Melba Gully or enjoy the ultimate rainforest experience on the Otway Fly TreeTop Walk!
The Great Otway National Park stretches from Torquay through to Princetown, and up through the Otways hinterland towards Colac. Featuring rugged coastlines, sandy beaches, rock platforms, windswept heathland and beautiful spring wildflowers, towards the north the park is also home to tall forests, waterfalls and tranquil lakes.
Stay a few nights, camping under the starry sky, and immerse yourself in the wonders of The Otways with it's changing landscape and vibrant flora. Alternatively, discover the region by horseback – permits available from Parks Victoria staff – or by mountain bike along marked trails.  For a unique mode of discovery, commencing from Anglesea, rent a 4WD and follow a marked 242km "easy" route, stopping at various attractions, picnic grounds and campsites, taking as long as you wish. Before you go, be sure to check for road closures or contact Four Wheel Drive Victoria for more information.
Visit the stunning Triplet Falls, enjoy countless smaller secluded falls emptying into beautiful fern-fringed pools or travel to Lorne where you'll find more than ten waterfalls!
Head to Cape Otway where you'll discover a remote secluded beach, surrounded by dramatic cliffs and Australia's oldest lighthouse. Or, deep in the Otways, you'll discover Lake Elizabeth with its calm waters punctuated by the trunks of dead trees, drowned when the valley was flooded 50+ years ago. Keep cameras at the ready for the shy native platypus, best seen at dusk or early morning.
Visit Melba Gully, full of ancient mossy trees and giant tree ferns – a great lunchtime picnic spot. Hang around until dark, when hundreds of pinpricks of lights gleam and twinkle in the dark forest from the large colony of glow worms  – a magical sight! Discover Maits Rest with giant beech trees said to be up to 300 years old or walk among the towering Californian Redwoods hidden in the Otway Ranges.
The Otway Fly Treetop Walk is a 600 metre-long and 25 metre-high walkway through the rainforest canopy, offering unrivalled views of the unique beauty of the region's flora and fauna. The special 45-metre Spiral Tower is an exhilarating experience as you gently sway with the rainforest canopy! However, if you're looking for an eco wilderness adventure, choose to zip through the forest – suspended up to 30 metres above the forest floor – on a Zipline, taking you through a series of cloud stations, flights and bridges. Phew!
Click here to buy tickets for the zipline and here for the canopy walk.
The region is also home to the Great Ocean Walk, a stunning coastal walk between Apollo Bay and the Twelve Apostles. Tackle the full route across eight days or in sections across weekends.
Picnic opportunities abound with lovely settings at many of the waterfalls, including Blanket Leaf, Sheoak, Distillery Creek, Moggs Creek, Paradise, Melba Gully, Shelly Beach, Triplet Falls and Blanket Bay to name a few. You'll find excellent camping opportunities throughout the Park.
Drive The Great Ocean Road
The Great Ocean Road is Australia's top coastal route for a reason – the views from this road are stunning!
Anglesea is located near the beginning of this route so if you arrived here from Melbourne, Geelong or elsewhere that didn't involve driving the length of this road then you really should try to make time to make this journey.
From Anglesea, it takes about 3.75 hours to drive to the end of the Great Ocean Road at Allanford (and then a faster, inland route of just over two hours to drive back again), so you will want to spend an entire day doing this.
There are many stops along the way from seeing the famous 12 Apostles (pictured above) to swimming at one of the many beaches to hiking in the Otways.
You can find more about this epic journey and our recommended stops in our full guide to the Great Ocean Road here.
What To Do In Anglesea Map
Best Place To Stay In Anglesea
When looking for where to stay in Anglesea, there are a few different options. We recommend the top three below and you can pick one depending on whether you want the absolute best option, a family favourite or a budget choice.
Located directly on the Anglesea River and just a 10-minute stroll to Coogoorah Park and Anglesea Surf Beach, the hotel's highly rated service and great location make this our top selection.
A 4-star beach aparthotel, the 29 air-conditioned apartments feature a kitchenette with refrigerator and microwave, cookware/dishes/utensils, iron and free WiFi.  Comfortable beds, satellite tv and bathrooms with showers, help make your stay a home-away-from-home experience.
Choose from seven different room types, including spa suites featuring a luxurious spa bath, 1 or 2-bedroom suites, and exclusive 2-bedroom deluxe apartments – some on the waterfront directly overlooking the scenic Anglesea River – all with daily housekeeping and room service.
The hotel's services include an indoor pool and a separate children's pool.  Jumpz Anglesea (trampolines),  floodlit tennis court, a steam room and fitness centre combine to make your stay fun and active.  End your day at the relaxing full-service Luz Spa, offering massages, detox wraps, body scrubs and couples treatment rooms.
Enjoy breakfast, lunch or dinner at The Coast Restaurant, focused on regional cuisine and farm-to-plate fresh ingredients.
Check here for the latest prices.
Terrific fun for all the family, the Big4 Anglesea Holiday Park features an awesome heated indoor water complex (with waterslide, waterfall and wet play area), a new adventure playground, jumping pillow, cinema room, games room, toddler playroom and a giant chess set!  Oh and don't forget the grazing kangaroos, beautiful gardens, kookaburras and parrots!
Less than 10-minutes walk from the Anglesea River, the holiday park offers fully self-contained accommodation in all shapes and sizes: 2 or 3-bedroom cabins, spa and suite cabins, and safari or bell tents.  Pitch your own tent at the onsite camping area or set up your campervan/holiday home at the powered grass sites.
Friendly staff will help you with the onsite BBQ/cooking facilities, and you'll find a super-clean shower block.  Special deals – such as stay 3 nights, pay for 2 – are often available.
Check here for details and reservations.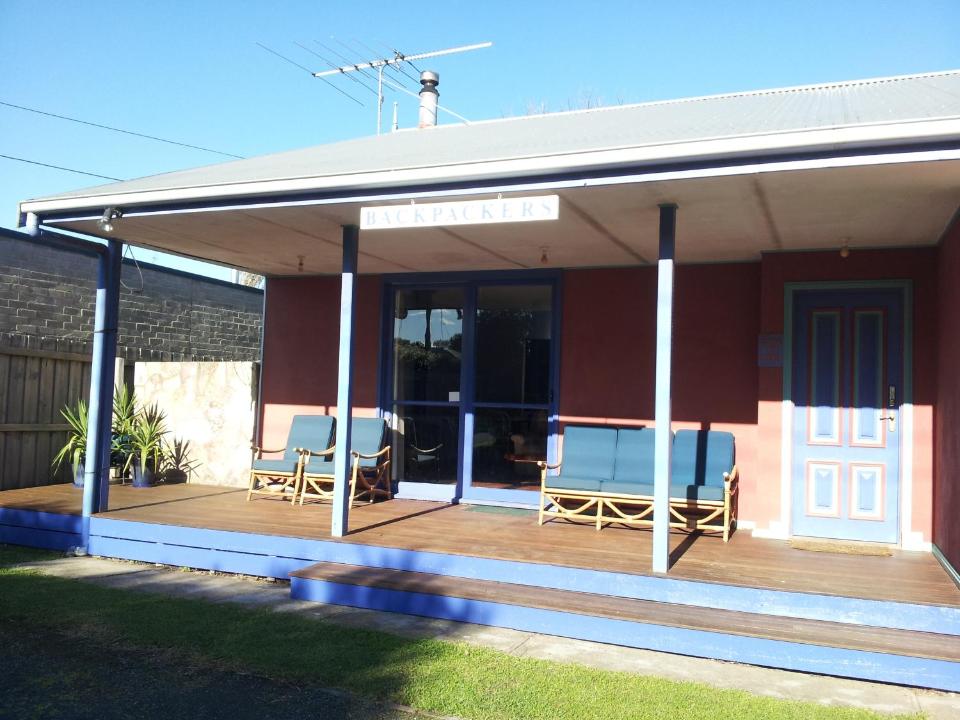 A 10-minute walk from the beach, along the beautiful Anglesea River and only 200 metres from the serene golf course (home to many kangaroos), this small backpackers basic accommodation option is an excellent place to base yourself.
Offering one dorm-style room with six bunk beds, a family room with a double bed and set of bunks, and a private ensuite room with double and single bed – this three-bedroom accommodation facility is a small, family-run business. The owners live onsite and are happy to help advise on your day tours and travel plans.
Linen, pillows and blankets are provided. Take along your own groceries and use the fully equipped kitchen to rustle up a meal.  Private parking, use of free bicycles and a shared lounge and garden complete the basic facilities.
Check here for the latest prices.
Find our full guide to Anglesea acommodation here.
How To Get To Anglesea
The best way to get to Anglesea is with your own car. I recommend you bring your own or hire one.
It is possible to catch a bus to Anglesea from Geelong train station. Find options here.
Anglesea With Kids
Anglesea is a fabulous place to visit with kids. I know because I have visited with my own kids many times including just last weekend :)
Everything on this list would be just as valid on a list of things to do in Anglesea with kids as they are all family friendly.
Add in the fact that there is some great accommodation in Anglesea for kids (we especially have enjoyed the Big4 Anglesea Holiday Park) and you're all set for lots of fun!
If you are planning on visiting Anglesea during the Victorian school holidays, make sure you book in advance. It can be very busy especially over the summer.
We have mostly visited in winter when it's still a very valid destination. Although you won't want to swim at the beach, you can still enjoy other Anglesea activities like tasting the chocolate at the chocolaterie and keeping a look out for kangaroos.
The Big4 Anglesea Holiday Park is extra recommended at the time thanks to the heated indoor pool. So much fun!
Final Words
I hope you enjoy your trip to Anglesea as much as we always do. It's a great little place with everything you need for a great Australian getaway.
I hope this list of Anglesea what to do was helpful and you now have lots of ideas of what to do at Anglesea! If you are looking for more things to do near Anglesea, check out our guide here which has many other attractions along the Great Ocean Road, many of which are just a short drive from Anglesea.
Read more Victorian travel guides here. You can also find our guide to Anglesea accommodation here or about places to explore on the Great Ocean Road with kids here.