Going on a Bargara trip and want to know all the best things to do in Bargara? We have you covered! Below you will find our guide to exactly what to do in Bargara Qld to plan your ultimate trip.
With a population of about seven and a half thousand, Bargara is a seaside town with a great beach, some good accommodation options and there are a variety of things to do in Bargara Qld. It's a good looking town with a great seaside boardwalk and is easy to get to by road from the rest of Queensland.
Before visiting for the first time, I thought Bargara would be like a seaside suburb of Bundaberg, the bigger (and more famous) town close by. However, Bargara is definitely its own town. It is less than a 15 minute drive to the centre of Bundaberg which means there are plenty of facilities in this area and it's possible to fly in as well.
It's the perfect place to hang out if you like beach vacations or want to explore this part of the Queensland coast. There's eating options, supermarkets and a great boardwalk along the coast. We really enjoyed our stay in Bargara.
You can also easily visit Bundaberg and all of its attractions and, all up, it's a great place to break up your journey as well if doing an east coast road trip up Australia.
Below, you will find everything you need to know about the best Bargara beach things to do options, all the top things to do in Bargara Bundaberg surrounds as well as the best places to stay for your ultimate holiday in Bargara!!
Top 16 Things To Do In Bargara
Here are the best things to do in Bargara, Queensland. With Bundaberg so close, I also include some of the best things to do in Bundaberg that you won't want to miss when you are in this part of the world. Read through and select the ones that fit your interests and timeframe.
I visited Bargara with my four year old.
Explore The Basin
Found at the very southern end of the Esplanade at Kelly's Beach by Christensen Park, The Basin is a wonderful salt-water swimming pool that was created by Pacific Islanders. In memory of them, you'll find a brass plaque honouring the construction work of this shark-protecting rock swimming pool.
Built from the local volcanic rock, The Basin is a great place for a fun dip – especially ideal for families with younger children as there's a sandy bottom, and even at high tide the water isn't too deep.
Plus as the tide comes in, fish are swept in too meaning you'll probably find more than a few swimming amongst your legs! Take along some bread to feed them and perhaps goggles for an easy snorkel amongst them. All in all, the Basin is an awesome place for youngsters to experience snorkelling and upclose fish encounters in shallow waters.
After your swim in the crystal clear water, hang around to explore the delightful nooks and crannies in the volcanic rocks that are home to soft and hard corals, sponges and algae. My four year old delighted in the tiny fish that were caught hostage in the rockpools, such as butterflyfish and damselfish. We also found sea urchins and pesky crabs!
Make a day of it by using the showers and then taking lunch at the nearby BBQ or picnic facilities. And for the kids, there's a big playground – recently refurbished – and you'll find plenty of parking spots close by.
Have Fun At The Turtle Park And Playground
If you're travelling with kids, you won't want to miss the Turtle Park by the Bargara coastline.
This fun playground is shaped like a turtle and is in a pretty spot by the coastal boardwalk. There's cafes nearby and plenty of BBQs, picnic facilities and public toilets too.
See The Barolin Rocks
The Barolin Rocks is a great diving spot as well as a great place to explore rock pools just south of Bargara in the Woongarra Marine Park at Coral Cove.
In this one of the places to visit in Bargara surrounds, you can find shore diving with turtles, sea snakes, rays, moray eels, reef fish and coral and more. Dugongs can also be spotted if you are extra lucky. Suitable for beginners, you can see great things within metres of the shore.
Visiting with my four year old meant that we explored on top of the water rather than under, and we had fun checking out the many rock pools.
There is parking and public toilets available.
Watch The Sunset At Bargara Beach
Situated on the coastline of the Southern Great Barrier Reef, Bargara sits at the centre of all the action along this strip of Coral Coast. A beachside oasis that is quintessentially Aussie, we recommend you grab your togs and your board, and hit the waves at either of the two surf beaches. Or perhaps take a sunrise stroll, set up your rod for shoreline fishing or sit at a beachside cafe over a lazy brunch. BBQ spots, beaches especially for kids, playgrounds, fish-and-chip shops, bakeries, local gelati and more… Bargara has something for everyone!
A family-friendly beach, you'll have great fun exploring the winding foreshore boardwalks, and with a climate similar to Hawaii you should enjoy long sunny days with calm seas that are perfect for snorkelling.
If you're lucky enough to visit in Summer, keep an eye out in the evening for turtles who come to shore to lay their eggs, leaving their deep tracks visible in the following morning's shoreline.
Yet, perhaps Bargara Beach is most noted for its dramatic sunsets that turn into brilliant, glowing-red light shows. Often mentioned as some of the longest and most stunning sunsets ever experienced, set yourself in a prime position and wait for the dusk extravagance.
Take Surfing Lessons

Are you the next Mick Fanning or Stephanie Gilmore?
Surfing is pretty much a religion in Australia and you can join the in-crowd with lessons at Bargara. There's a couple of beaches around the town that have waves during swells from the east – rolling in between Fraser Island and the Great Barrier Reef.
Bargara Beach – with left and right peaks breaking over sand and tropical waters 12 months of the year – make this location one of the best in Australia to learn to surf. You'll find a handful of surf school operators – with Surfschool Bargara and Enviro Reefs Paddle & Surf a couple of the more established – who will guide you in one-to-one lessons or group classes.
You'll be taught by local and international surf coaches who cover the basics such as warm-ups to paddling to catching your first wave and standing! Killer, dude!
If you're more experienced, head over to nearby Nielsen Park Beach to catch some waves or if you don't fancy surfing why not try SUP, perfect in the warm waters of Queensland.
Grab A Snapshot Of The Enormous Rum Bottle In Bundaberg Rum Distillery
From Bargara, it's only a short drive to maybe the most famous of the things to do in Bundaberg Bargara. You won't want to miss a visit to the Bundaberg Rum Distillery.
Home to Queensland's (and perhaps Australia's) most iconic rum – made to the same time-honoured tradition since 1888 – you're in for a fun visit with tastings, a museum and even a chance to blend your own rum. Check out the distillery, the barrel-house and bottling plant.
Start your visit with the Museum Experience – a self-guided tour which takes you through six massive 75,000 litre oak vats. A rather unique sensory experience explains the rich history behind this iconic tipple.
Distillery Experience tours run on the hour, every hour, and you'll be taken deep into the heart of the fully operational distillery, learning the fine craft of making this fine Australian spirit. But if you feel you have the flair to become a Master Blender, join the premium Blend Your Own Rum Experience to try your hand at blending your own rum straight from the barrel!
Your guided tour has you looking, feeling and tasting your way through the making of this famous Aussie spirit, with raw molasses and aromas filling the air of the maturing spirit and the samples at the bar.
We spent much longer here than expected as there's lots to experience, some great banter with the guides (who do a terrific job), and of course we needed time to fully sample the products! Plan around 2 hours, and phone ahead if you're arriving with a large group.
Located on the banks of the Burnett River, the Distillery is currently open daily 10am-4pm and children under 18 years of age must be accompanied by an adult.
Click here to book a tour of the factory or here for just the museum.
Taste Your Favourite Ginger Beer At The Bundaberg Barrel
My son's top pick of the things to see in Bargara is this Bundaberg attraction – the Bundaberg Barrel.
If you've ever had Bundaberg ginger beer, this is where it comes from! However, they also have tons of other flavoured soft drinks as well! On-site is a shop area with some informative displays. I read about a self-guided tour with interactive displays but I never saw this – so I'm not sure if it's an option at the moment or if what I saw is all there is.
What we were able to do is a guided tasting where we tasted 12 different flavours of their soft drink. They are quite different to other soft drinks using real fruits, just about all sourced from Australian ingredients. The tasting was fun and informative as well as popular – it's worth booking in advance on their site (linked to below).
When the tasting is finished, you can choose your six favourite bottles to take home. This was hard! But you can also buy whatever you want from the shop area so you don't need to worry about six not being enough.
There's also the opportunity to make your own ginger beer label with your photo on it and you can order this while you are there.
It's a fun and tasty Bundaberg attraction which is worth fitting into your Bargara trip. It's located on the road between the two places so it's easy to visit from Bargara. You won't be able to miss it since the building is shaped like a giant barrel! The man who led our tasting was informative and I was able to learn a fair bit while my son was entertained by the tasting.
Click here for more information.
Learn More Of Town's Liquor History At Bargara Brewing Co.
Supposedly "Coronavirus doesn't stop good beer being made"… and who's going to argue with that!
Bargara Brewing Co was founded less than a decade ago, however this family-owned brewery has quickly grown in stature, brewing craft beers for "those that strive for something better". Well.. we're not sure about that, but they sure are delicious!
A passion project, the owners are happy to show you around this boutique brewery that focuses on best quality brews from local fruit and vegetables.
Beers are made on 100% Queensland rain water – supposedly aiding the clean crisp taste. There's a few to sample, such as Hip Hop (an India Session Ale that pours a golden orange colour), humorously named Drunk Fish Pale Ale (with a more sweet and nutty flavour).
Next up is Thirsty Turtle, brewed by following traditional methods using Tasmanian grown Super Pride of Ringwood hops for bittering and European hops for flavour. There's a surprising amount of science that goes into these!
Rusty Roo, Phat Heffa, Ray XPA and Convict are some other imaginatively named brews! So drop by the Brewhouse – where all Bargara Brewing Company's beers are made – and enjoy a meal whilst you work your way through the taps of freshly brewed beers! A great day out, perhaps a good idea to make sure you're not driving home! Hiccup!
Know How They Grow The Purple Beauty At Amandine Lavender
Lavender always reminds me of my grandma. Her garden was always full of flowers but the pots of lavender (attracting the busy bumble bees) were the standout display, filling the air with heavy fragrance.
Amandine Lavender gift shop and farm was therefore a favourite destination on our Bargara itinerary. Located in Bundaberg, the company has been in the business for over ten years – focusing on all things lavender.
You'll find products to calm and relax you, fragrances to take home for you and your home, and a myriad of lavender-themed products in the gift shop. And outside, everywhere is framed with wild lavender flowers, truly a delight to see.
Discover how to propagate and grow your own lavender, the benefits of lavender essential oil and wander through the lavender patch and country garden.
Don't leave before trying their delicious fudge (super yummy!) or how about a one-time only chance to try lavender gelato?
Enjoy The Amazing Views At The Hummock Lookout
Looking for a perfect sunrise or sunset spot? Hummock Lookout has you covered with 360-degree views to the ocean, across sugar fields and on to the smokestacks of the Bundaberg Rum Distillery.
The hill – actually an extinct volcano – is only 96 metres above sea level, so nothing too spectacular yet the views across the flat farmlands are fabulous!
Whilst there, checkout the large Aboriginal art mural at the site, holding an important place in local indigenous history. Depicting the violent story of Paddys Island at the time of European settlement, the location is visible from the Hummock Lookout. Situated on the Burnett River, Paddys Island is a part of the history of the 19th century massacre of First Nations Peoples.
Celebrate Aviation At The Hinkler Hall Of Aviation
Aviation fans, this is one for you! This air museum in Bundaberg focuses on the legacy of pioneer Australian aviator Bert Hinkler.
Dubbed the Australian Lone Eagle, Bert designed and built early aircraft before going on to be the first person to fly solo from England to Australia, plus the first person to fly solo across the Southern Atlantic Ocean.
Born in 1892, Bert died during another solo flight record attempt after crashing into remote countryside in Italy in 1933. An amazing mathematician and inventor, he was also awarded the Distinguished Service Medal for his activities during the First World War.
These astounding adventures and his remarkable life are honoured at the Hinkler Hall of Aviation located in the lush Bundaberg Botanic Gardens. Interactive displays, glide simulators and a movie help to make this a fun but educational place to visit. Sit in the replica Avro Baby aircraft and view the original from his record setting 1921 flight. Memorabilia and artifacts help bring to life this incredible man and highlight the importance he played in Australia's aviation history.
Search out the small piece of wood – a relic from one of Hinkler's hand-made gliders – originally presented to US astronaut Don Lind who passed this onto Dick Scobee, captain of the ill-fated final Challenger mission. The relic was later found inside a small plastic bag in a locker that was recovered from the sea after the explosion and is now back safely mounted at the Hinkler Memorial Museum. That's quite a journey for one small piece of wood!
If you are travelling with kids, next door to this attraction is a fantastic playground as well as a cafe and the surrounding botanical gardens.
See Turtles Lay Eggs In Mon Repos Turtle Encounter
If you're lucky enough to be in the area from November to March you can join expert park rangers for a rare and once-in-a-lifetime adventure with endangered marine turtles.
Looking at the 2020/2021 season, over 365 loggerheads, 9 flatbacks and 1 green turtle (was she lost?) visited the Woongarra Coast. Making around 1200 nests and laying an estimated 150,000 eggs, it's no wonder the Mon Repos Turtle Centre is deemed critical for the survival of turtles with the main focus being on the gigantic loggerheads.
During the months of November to March, special encounter tours are offered to witness this ancient life cycle of the animal kingdom – as lumbering turtles arrive on the shore to lay their eggs under moonlit skies. Or delight as hatchlings burrow up from below, skedaddling down to the shore and the safety of the ocean.
Visitors are often expected to walk up to 1.6km (return journey) during the nightly events, sometimes with natural or limited lights in sections and stand on uneven surfaces. Thus a certain level of fitness is required, along with suitable footwear and additional clothing as it can get chilly during the evening. Rain jackets are also a good idea, a water bottle, snacks and insect repellent. And then it's just a case of waiting…
Tours operate from 7pm to midnight, 7 nights a week during the season (except for 24, 25 and 31 December). Full details and ticket information can be found here.
If you're visiting Bargara outside of Nov-Mar, there's still lots to discover! The Mon Repos Turtle Centre is open 7 days a week, 9am-midday and this globally significant site teaches you about these extraordinary animals, plus the conservation and research projects that are protecting them.
Submerse yourself for a few hours in the lives of marine turtles, with a special Junior Discovery Zone for younger visitors. From Bargara, follow the signs to Bundaberg but turn right at Bargara Primary School into Potters Road. At the end, turn right at the T-intersection into Grange Road. Continue straight ahead onto Mon Repos Road.
Explore The Great Barrier Reef
Stretching an incredible 2300 kms along the Queensland coastline from Bundaberg to the top of Cape York and comprising 3,000 separate reefs, the Great Barrier Reef is an immense marine experience.
Divided into five precincts, the nearest to Bargara is The Southern Great Barrier Reef covering a range of regions including Bundaberg, Gladstone, Yeppoon, Agnes Water and 1770. This includes gems of islands such as Lady Musgrave, Heron, Lady Elliot, Great Keppel, Pumpkin and Wilson.
Lady Elliot Island and Lady Musgrave Island – the two ladies of the Southern Great Barrier Reef – are the southernmost coral cays. Absolute jewels, they are nearest to the Bargara coastline and overflow with abundant marine life. Whether you're a beginner or advanced snorkeler or diver, there's something for every level.
If you have the budget and time, ensure to camp out on the coral atoll of Lady Musgrave Island, swim with mantas at Lady Elliot Island and enjoy your pick of 17 sparkling beaches at Great Keppel Island. The Southern Great Barrier Reef should not be missed!
Go On A Boating Adventure To Lady Elliot Island
The southernmost coral cay of the Great Barrier Reef, a visit to Lady Elliot Island is almost on par with the Galapagos for nature lovers. Home to a small eco-resort for overnight stays or day visitors, there's an airstrip with daily flights from Bundaberg.
Particularly renowned for diving and snorkelling, thanks to its location being far offshore at the southern end of the Great Barrier Reef, there's astounding water clarity. And with a total ban on fishing around the island, marine life is prolific.
Lady Elliot Island plays a key part in protecting natural habitat for turtles with both green and loggerheads lumbering up beaches from November to March to lay their eggs. You can catch the hatchlings racing to the ocean during January-April.
If you're here June to October, keep an eye out for humpback whales (usually most visible from the airplane). If you're scuba diving, almost daily during this season whale songs can be heard underwater!
Back on land, Lady Elliot Island has possibly the highest seabird diversity of any island within the Great Barrier Reef. In fact, it's estimated that over 100,000 birds nest on the island during summer breeding time.
This extraordinary island – perhaps most well known for its large numbers of manta ray visitors – is an amazing full day trip. You can walk around the emerald green-edged island inside an hour or spend your time diving or snorkelling seeking out fish, turtles, dolphins, colourful corals and so much, much more!
There are special tours such as "swimming with manta rays and turtles", over 20 dive sites around the island and exploration of the Great Barrier Reef at night.
After a 25-minute scenic flight from Bundaberg – don't forget to look out for whales – visitors usually have 5-6 hours on the island. You'll find day guest facilities – with lockers, shower facilities, towels, sunscreen and reef walking shoes. Day trips come with a glass bottom boat/guided snorkelling tour, snorkel equipment, and include a buffet lunch too.
If you wish to stay longer, investigate the Lady Elliot Island Eco Resort – a modern family run ecotourism business. There are units, tents and cabins, all designed to minimise the impact on the island. Glass bottom boat or guided snorkel tours are usually included as part of the overnight rate, along with buffet dinner and breakfast. Click here for more details.
If you have the time and the budget, don't miss a visit here as any time of the year this is somewhere very special.
Enjoy A Cruise To Lady Musgrave Island
Visits to Lady Musgrave Island depart from nearby Bundaberg. Only a stone's throw from the Bundaberg coastline, this island is a backdrop to a reef that is simply nothing like anywhere else on earth.
The island itself teems with bird life above the water, whilst giant marine life awaits below. Swim with turtles, dive with manta rays, watch playful dolphins and – if you're lucky – admire passing whales. This is mother-nature's greatest show.
The second island on the Southern Great Barrier Reef, Lady Musgrave is a coral cay with 1,192 hectares of amazing fringing reef. Luxury catamarans sail from Bundaberg Port Marina to the island, and then it's time for around 4-5 hours of hanging out at the famous reef. Morning and afternoon tea is served, along with a gourmet buffet lunch. Some boats offer a Captain's Lounge on the Upper Deck with waiting staff, gourmet cheese platters and more.
Select your boat carefully, checking the inclusions and don't forget your mask, snorkel and fins. And, if time allows, explore Lady Musgrave on foot with guided island walks.
You can book tours to Lady Musgrave here from 1770.
You can book whale watching tours here.
Visit Flying High Bird Park
This one of the things to see in Bargara is actually in Apple Tree Creek, near Childers about 45 minutes drive from Bargara. It's worth the drive especially if you are travelling by this way on your way to or from Bargara from the south.
Located by the main A1 Highway, this bird park is surprisingly big. There's a huge bird aviary split into parts and there are many birds to see and interact with. Some are very friendly and it wasn't long until one decided my shoulder was the place to be.
You can buy bird food and enjoy trying to feed them although we found them well looked after and most were not interested in our food.
There is a route to follow to see all the birds as well as through an outside part with Australian and farm animals (as well as a dinosaur!). These include kangaroos, emus, horses, goats and more. It's possible to feed these animals too which was fun.
It's very enjoyable to walk around both the aviaries and the outdoor part and we very much enjoyed our visit here. Families are likely to extra enjoy this near Bargara attraction, but anyone can enjoy this place. There's also a pirate ship for kids to play in, a cafe and a gift shop.
My only complaint is that the toilet is not at the entrance and it's a long walk around to get to it – so if you stop here after a long drive like us, don't expect to quickly find a toilet! Otherwise, this place is surprisingly big and enjoyable and we had a great time here.
Bargara Things To Do Map
Best Place To Stay In Bargara
When it comes to looking for the best accommodation in Bargara, there are many choices for a small beach town, and I'm sure you'll find something you'll enjoy.
Below, I've listed a few places to stay to consider including a budget, mid-range and more expensive option.
Looking for the best-of-the-best accommodation in Bargara? How about this centrally located resort that offers spacious self-catering apartments that are just a short walk from beautiful Kellys Beach and The Basin.
Bargara Blue Resort is a small resort on the Esplanade, just across from the waterfront. With  only 25 luxury self-contained apartments, each unit has a large open-plan living/dining room and a fully equipped kitchen. Facilities include dishwasher, air conditioning in the lounge/dining room, ceiling fans in bedrooms, television with cable channels, second television in main bedroom, DVD player, laundry with washing machine and dryer and an iron.
Rooms are modern, with bright blues and yellows and great natural light. They come in various sizes including one-bedroom spa units and two and three bedroom apartments. These come with ground floor, sunset views, partial and full ocean view. You'll also find some with a terrace or balcony – so select carefully when booking. We highly recommend their 1-bedroom with rooftop for its astounding views.
There's a lovely heated swimming pool and a tennis court too. BBQ facilities, a garden and free WiFi are provided. Parking is also free, and front desk staff are happy to assist with your tours, such as arranging whale watching or advising on loggerhead turtle nesting.
It's an easy stretch of the legs – 10 minutes – to reach local shops, restaurants and cafes, helping to make this our top pick of accommodation in Bargara.
Click here to see the latest prices.
If you're looking for well-priced apartment style accommodation in Bargara, look no further than the Koola Beach apartments. Located a few blocks from the beach and a short drive from services, this is an easy place to stay with secure parking and some handy facilities.
You can pick from one or two bedroom apartments which are fully self contained and also have washing facilities including a dryer which I always find a huge bonus!
Our two bedroom apartment had one bedroom without a window, but I didn't find that a problem. It had two single beds with the main room having a queen. The bathroom had a shower and the clothes washing facilities including a clothes airer.
The combined living/dining/kitchen was spacious and set up for four. The full kitchen was very handy and there's also a good-sized balcony with table and chairs.
The apartment was clean and well equipped but looked quite worn in places and could do with a refresh. However, given the size and facilities, it is good value for money.
The building is also home to a pool and BBQ area. We found the pool too cold to use when we visited in May.
Click here to see the latest prices.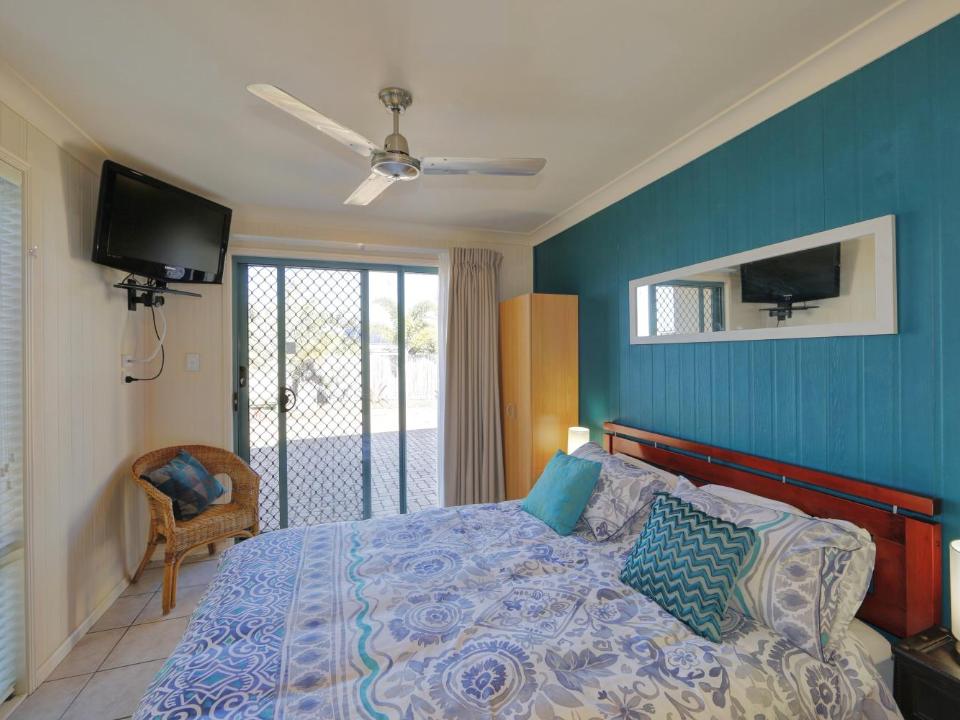 Less than 1km from the centre of Bargara, Golden Cane Bed & Breakfast is our select pick of budget accommodation in Bargara.
Found in a fairly quiet cul-de-sac, decorated with a Mediterrean ambiance – lots of pastels and bright blues – this B&B is delightful! A wonderful host welcomes you to your room, nestled amongst the small gardens.
There are only 3 rooms, 2 x queen rooms with garden view and 1 x double room with garden view. Both have a double bed, but the queen bedrooms are slightly larger with aircon and have ensuite bathrooms.
There's a small bar, a shared lounge and guest kitchenette for snacks, a lush garden teeming with birds and an outdoor saltwater swimming pool. You can grill up a BBQ for dinner and enjoy an included continental breakfast. They also have free WiFi and free use of the washing machine and dryer.
Not bad for "budget" accommodation!
Click here to see the latest prices.
How To Get To Bargara
It's easy to get to Bargara by plane, bus, train or car. If you have your own car, great! You are good to go. We drove here from the Sunshine Coast airport and it was easy and took about three and a half hours.
To hire a car to get you there, click here.
Bundaberg is your best route to Bargara. Regular flights, buses as well as trains are available from Brisbane and other major cities going to Bundaberg. You should then take a bus that will take you to Bargara for more or less 30 minutes, although you are likely to enjoy your visit more with a car.
To see all the latest flights and prices, click here.
Bargara With Kids

This beachside town is a great place to visit with kids. I visited with my four year old who enjoyed exploring the coastline from Barolin Rocks to Turtle Park. He also loved the drink tasting at Bundaberg Barrel, the planes at the Hinkler Hall of Aviation and more.
It's hard to go wrong with a family trip to Bargara!
Final Words
I've wanted to come to this part of Australia for many years and I wasn't disappointed. It's not as flashy as parts further south (like the Sunshine and Gold Coasts), but that's part of its appeal. For a low-key beach destination in Queensland that's still close to a variety of attractions, the Great Barrier Reef and some great accommodation, Bargara is a great pick!
I hope you enjoyed the guide to things to do in Bargara Australia. Read more Queensland travel guides here or find our guides to nearby Rockhampton here, Gladstone here or Rainbow Beach here.