Going on an Echuca trip and want to know all the best things to do in Echuca, Victoria? We have you covered! Below you will find our guide to all the best Echuca attractions to plan your ultimate trip.
Looking for a gorgeous Murray River town with plenty of history, attractions which is also a nice place to just hang and take it easy?
Then you certainly booked the right place! Echuca-Moama may be just what you are looking for!
Located on the Murray River and the state borders of Victoria and New South Wales, Echuca has an interesting history. Its aboriginal name translates to "meeting of the rivers" as this is where the Murray, the Goulburn and the Campaspe Rivers meet. In the 1800s, Echuca was an important crossing point between the two states which meant plenty of traffic and trade especially during the Gold Rush.
The historic port area is the highlight of Echuca and where you can learn all about this time as well as take a nostalgic ride on Echuca's famous paddlesteamers.
Beyond the port, there are plenty more Echuca things to do with some low key museum, wineries and many other delights waiting for you.
Below, you will find our Echuca travel blog with everything you need to know about what to do in Echuca (including things to do in Moama NSW) as well as the best places to stay for your ultimate holiday in the Echuca region!! There is also a handy map of the things to do in Echuca and surrounds and a section especially for things to do in Echuca for families.
What Is Echuca-Moama?
Before we get stuck in, I want to clarify what Echuca-Moama is referring to and why this guide is about both places.
Echuca and Moama are twin towns that straddle the state border of Victoria and New South Wales with the Murray River being the border and separating Echuca, Victoria and Moama, NSW.
Moama is on the north bank of the Murray and is in New South Wales. Echuca is on the south bank in Victoria.
The towns are right next to each other and you can easily visit any of the Moama things to do while staying in Echuca and vice versa. This means that from a traveller's perspective, you can somewhat view them as the same place, and there is no reason not to visit attractions in both cities.
Top 17 Fun Things To Do In Echuca Moama
Here are the best things to do at Echuca. Read through and select the ones that fit your interests and timeframe. Further below, we have 5 more things to do in Echuca for kids specifically although kids will also love many of the Echuca activities in this list.
Ride A Paddlesteamer
Address: 57 Murray Esplanade Echuca
Opening Hours: 9:30am to 3:30pm (Wed-Fri), 9am to 5pm (Sat-Sun)
Price: Starts from $30
No trip to Echuca is complete without a ride on an old paddle steamer. This is also the perfect way to start your Echuca holiday.
Echuca came to life in the 1870s when it was Australia's third largest port after Melbourne and Sydney. Paddlesteamers were a part of everyday life and the good news is that there are authentic, steam driven paddlesteamers that you can take a ride on down the Murray.
There are many choices from one hour cruises to dinner cruises to multiple night adventures.
We took a one hour ride on the 100+ year old PS Canberra which was perfect with our kids' short attention span. Inside the paddlesteamer, you can see the steam engine up close and watch it operate. There is also commentary on the area and its history.
If you only have time for one of the things to see in Echuca, it should definitely be this.
Explore The Port Of Echuca Discovery Centre
Address: 74 Murray Esplanade, Echuca
Opening Hours: Daily from 9am to 5pm
Price: Entry to the open-air museum and the Echuca Wharf is free. Day tours starts from $10.50
After the paddlesteamers, the next must visit of the Echuca tourist attractions is the Port of Echuca Discovery Centre. It's marketed as a "living monument" to Echuca in the 1870s and this is what you'll find!
It covers a large outdoor area next to the Murray in the centre of Echuca where the paddlesteamers depart. It starts with an indoor museum with more information about the history of the area before you walk around the site where there are many interesting exhibits including an old winch, sawmill, the Echuca wharf area, an old train station and rail vans, working steam engines (and a chance to talk to their operators), a blacksmith shop and more. Many parts operate or are interactive and it's well worth exploring here.
Entry includes a one hour optional tour which I recommend you take. We found it very interesting and an easy way to get an introduction to the area. You then get access to the site for the full day.
Find the latest ticket costs and more information here.
Walk The Heritage Trail
Address: Starts from McDonalds – 479 High St, Echuca
Opening Hours: N/A
Price: N/A
One of the fun activities in Echuca is to explore the downtown area by foot. For the perfect walk around town, download this copy of the Echuca Heritage Walk and explore the old areas of Echuca.
This self guided walk shows you the best of Echuca as well as sharing some of the history of the town and some old photos.
Go Car Crazy At The National Holden Museum
Address: 7-11 Warren St, Echuca
Opening Hours: Daily from 9am to 5pm
Price: $10
Car lovers (or people with kids) will want to visit the National Holden Museum. Home to over 50 vehicles, you can see many Holdens as well as information about the cars, memorabilia and racing footage.
Located a short walk from the port, this one of the Echuca places to visit is a fun place to explore if you are a Holden fan.
Learn About The Past At The Echuca Historical Society Museum
Address: 1 Dickson St, Echuca
Opening Hours: Daily from 10am to 2pm
Price: $5
Also located nearby, the Echuca Historical Society Museum is situated in the National Trust listed old police station and is one of the places to visit in Echuca to learn more about the area and to see a collection of historical items, charts and photos from the area.
Satisfy Your Sweet Tooth At Echuca Chocolate Company
Address: 614 High St, Echuca
Opening Hours: 9am to 5pm (M-Sat), 10am to 4pm (Sun)
Price: –
If you have a sweet tooth, you'll want to head straight to this one of the things to see and do in Echuca. Located next to the port area as well, you'll find a whole shop of different types of chocolate made by hand begging you to eat them!
They also make chocolate liqueurs and you can taste (and purchase) their range.
Have A Laugh At The Echuca Thong Tree
Address: 13-25 Watson St, Echuca
Opening Hours: Open 24 hours daily
Price: Entry is free
Ok so maybe this shouldn't make this list of the top things to do in Echuca Vic as it's definitely not going to win any awards. However, it is kind of funny and my kids enjoyed it.
It's also easy to get here as it's located next to where many of the paddlesteamers depart from so keep a lookout for it! It's also listed on the map of things to do around Echuca below where you can find the exact location.
Try Some Gin At The Echuca Distillery
Address: 555 High St, Echuca
Opening Hours: 10am-4pm (Mon), 11am-6pm (Thu), 11am-9pm (Fri-Sat), 10am-6pm (Sun)
Price: Entry is free
Gin drinkers will love Echuca Distillery which is also just moments from the port and all the attractions in Echuca listed so far.
Here, you can learn about the distillation of spirits including gin, vodka and liqueurs and, of course, you can also try them. I recommend the cucumber twist gin.
Go Black And White At Sharps Magic Movie House and Penny Arcade
Address: 43 Murray Esplanade, Echuca
Opening Hours: Daily from 9am to 5pm
Price: $5
Of all the Echuca things to do and see, this small attraction is probably where we had the most fun!
In addition to a lolly, ice cream and fudge shop, at Sharps, you will find old black and white movies and a penny arcade! There is an admission charge for the penny arcade and movies and in return, you'll get a container of pennys.
We were shown around the arcade and how to use the games. We then spent about half an hour playing them with our family of five. It was so much fun for all ages!
They have a very cool collection of authentic arcade games from 50-110 years old that operate via pennys. From soccer games to old peep shows, we had quite the experience. One even told our fortunes and I'm happy to say, I have a great future ahead!
Located at the port, this is definitely worth being on your list of Echuca things to see and do.
Follow The River Trail
Address: Begins at 57 Murray Esplanade, Port Of Echuca
Opening Hours: 11:30am or 1:15pm departure, 1:45pm or 3pm return (Thu-Sun)
Price: $65
Not just any river trail though – one that leads to paddle steamers, gin and beer!
The Echuca Gin, Beer and River Trail is definitely one of the most fun Echuca Moama things to do. Starting in either direction, this tour allows you to try three types of gin at the Echuca Distillery before a paddle steamer ride to Morrisons Riverview Winery on the other side of the river.
Here, you can try a paddle of handmade beers and ciders and perhaps an optional lunch at the winery before taking the paddle steamer back into town.
Find more information here.
Go On A Canoe Safari
Address: 13 Mackie Street, Kyabram, Victoria
Opening Hours: 9am to 5pm (Mon-Sat), 10am to 4pm (Sun)
Price: Starts from $40 per hour
A canoe is a great way to explore this part of the world and you have the option of either organised canoe safaris or self guiding a canoe adventure.
Adventours have a range of options from a couple of hours to multi-day adventures. Read more here.
Waterski The Murray
Address: 66 Merool Road, Moama
Opening Hours: Daily from 10am to 4pm
Price: Starts from $160 per person (half day lesson)
One of the popular things to do Echuca offers is to go waterskiing! Whether you are new to the sport or an old hand, you can enjoy this activity easily here.
You can find lessons or waterskiing adventures here.
Sip Wine At A Winery
Address: 123 Merool Rd, Moama
Opening Hours: 10am to 4pm (Thu-Fri), 10am to 9pm (Sat), 10am to 5pm (Sun)
Price: Entry is free
Finally leaving the port area, there are many wineries around Echuca and across the river in Moama.
A popular choice is Morrisons Riverview Winery located in Moama. You can taste wines, buy your favourite and have a nice lunch here.
For people who prefer beer, on site is the 1710 Brew Co where they brew their own beers and ciders and have a range you can enjoy. There is a beer garden and entertainment.
Fish For Your Dinner
Address: 400 Perricoota Rd, Moama (Perricoota Vines Retreat)
Opening Hours: –
Price: Starts from $103 (but would still vary on your date of stay)
One of the popular Echuca to do items is to go fishing! There is no shortage of spots to drop in a line. Just make sure you have the necessary license. We particularly liked staying at the Perricoota Vines Retreat for this as they have their own lake and you can borrow rods. There are fishing shops in Echuca where you can get whatever you need.
Explore The Chanter Estate Winery And Military Museum
Address: 154 Chanter St, Moama
Opening Hours: 10am to 4:30pm (Sat & Sun)
Price: –
For a great answer to what to do in Moama, head to Chanter Estate Winery and Military Museum. Not only can you pick up some great wine but you can also be surprised by the amount of military equipment on display here!
Housed in a 100 year old church, there is an impressive collection of commercial and military vehicles some of which have been used in movies. There's over 40 exhibits from the 1900s-1940s as well as other memorabilia and information.
An entry fee is charged to enter the military museum although there are a couple of vehicles out the front. This definitely made a great family excursion since the kids were fascinated by the museum.
Walk The Horseshoe Lagoon
Address: 96 Old Barmah Road, Moama
Opening Hours: 9am to 5pm (Mon-Sat), 10am to 4pm (Sun)
Price: Entry is free
An easy to visit option of the Moama attractions is Horseshoe Lagoon. Located by the Murray right after crossing from Echuca, the Horseshoe Lagoon is Moama's Wetland and Floodplain Reserve
It's a great place to have a wander with a boardwalk over the lagoon and a great viewing platform by the Murray. There are some informational panels about wetlands and floodplains along the Murrary too. The main walk is short and perfect for younger kids.
Visit The Great Aussie Beer Shed
Address: 377 Mary Ann Rd, Echuca
Opening Hours: 9:30am to 5pm (Sat, Sun & Holidays)
Price: $14
One of the most famous things to do near Echuca is the Great Aussie Beer Shed and Heritage Farm Museum perfect to visit on your way into town.
Home to a huge display of Australian icon paraphernalia, you can find over 17,000 beer cans from both here and around the world. There's also other beer related items including signs, bottles, barrels and brewery machinery, as well as more general household items from previous times. There's even a partially resorted World War I canon.
If you like variety, a bit of a laugh and a trip down memory lane, this is a worthwhile stop while visiting things to do in Echuca, Australia.
Have A Picnic At Five Mile Picnic Area
If you want to spend some time in nature and do some wildlife sightseeing in Echuca, Five Mile Picnic Area is a great spot.
This is a popular area for fishing and launching boats and canoes (you can hire these from town). However, a picnic is the best family activities Echuca offers here. There are several well kept BBQs and picnic areas and there's also tracks for taking a walk or letting the kids ride their bike.
Visit The Charming Echuca Heritage Sweet Co
Address: 606 High St, Echuca
Opening Hours: 9am to 5pm Mon-Sat, 9am to 4pm Sun
Price: Entry is free
For people with a sweet tooth one of the fun things to do in Moama Echuca will be a visit to the Echuca Heritage Sweet Co.
This is one of the places to see in Echuca with a large selection of sweets from all around the world as well as sweets from all different decades, combined with the nostalgic charm of an old style sweet shop.
Whilst it's not one of the must do things to do Echuca Moama, they have a big variety of sweets and one of the good Echuca Moama attractions if you have some spare change to spend 🙂
Echuca Attractions Map
Below, you can find all the Echuca things to see listed in this article and exactly where they are.
Best Place To Stay In Echuca/Moama
There is a great range of accommodation in the Echuca/Moama area for different budgets and needs whether you are looking for a romantic getaway, a cheap getaway or a family adventure.
With Echuca and Moama being so close, it doesn't really matter which side of the river you stay on. In fact, we found better options on the Moama side so that is where we stayed.
Below I've listed a few different places to consider including a budget, mid-range and more expensive option.
The Perricoota Vines Retreat is a great place to stay when you don't mind a short drive (less than ten minutes from the bridge across the Murray). It has a range of accommodation options from studios to three bedroom villas. Many are right on their lake and you can fish off the verandah!
We stayed in a three bedroom villa which is spacious and well equipped to cook, wash, relax and enjoy for our family of five. Just about every accommodation option has a nice spa with a view and we enjoyed this a lot.
There are many facilities here including two pools, the lake for fishing, tennis court, playground and games room. The resort is well presented and a good size – there are just 23 villas so it's easy to use the facilities without feeling like you are in a crowd of people.
Whether you're a family, a couple wanting a romantic break or a group of friends, this is the perfect choice of accommodation in Moama.
Click here to see the latest prices and for more information.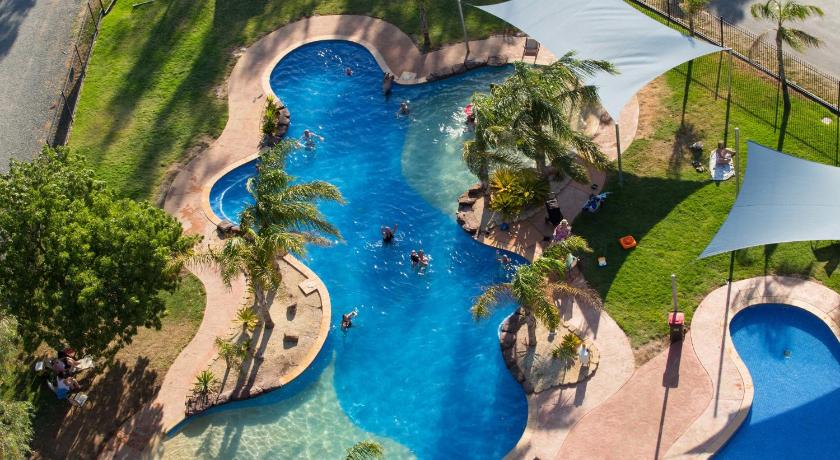 Merool Holiday Park is also located in Moama by the Morrisons Riverview Winery and is a great place for families and couples who want some space and self contained accommodation with some handy facilities for a great price.
This caravan park has sites for people who have their own van or tent and a range of cabins from studios to two bedrooms. Some cabins are right by the Murray, and we particularly like the 2 bedroom themed cabins (set up like old fashioned shops on the outside) by the river.
The facilities at the park include communal kitchen and bathroom, a boat ramp, pool, two jumping pillows, games room and a river beach. They also run activities during school holidays.
Click here to see the latest prices and for more information.
For a budget stay near the heart of Echuca, check out the Echuca Motel.
With rooms in simple motel style including twin, double and family options, there is also a two bedroom apartment for up to four people.
On site, you will find a solar heated pool and BBQ area.
Click here to see the latest prices and for more information.
How To Get To Echuca
It's easy to get to Echuca by car from anywhere in Victoria. There are great roads and if you have your own car, great! You are good to go.
Echuca is also easy to reach by bus or train from the main nearby population centres such as Melbourne.
Things To Do In Echuca With Kids
Echuca is a fabulous place to visit for families with just about all the attractions listed above being great with kids. There's also some more family focused things to do with kids in Echuca that I have listed here.
Billabong Ranch
Address: Glanville Rd & Tehan Road, Echuca
Opening Hours: Daily from 9am to 5pm
Price: Starts from $85 per person (1 Hour Bush & Creek Trail Ride)
If you are looking for kids activities Echuca offers then head straight to Billabong Ranch! Situated about a 15 minute drive from Echuca, Billabong Ranch has both indoor and outdoor activities on a 390 acre property.
Most known for its horse riding and trails, there are also many other activities here including mini golf, rock climbing, pedal boats, archery, pony and camel rides and bungee trampoline.
There are a range of activity passes as well as multi day camps for kids. Your kids will love it!
Find more information on their site here.
Gravity Shack
Address: Lot 1/90 Annesley St, Echuca
Opening Hours: 9am to 5pm (Tue-Thu, Sun), 9am to 6pm (Fri-Sat)
Price: Starts from $15
If the kids need a run around indoors, then this one of the Echuca kids activities is exactly where you should head!
This trampoline and indoor play centre is well set up with trampolines and a big air bag. There is also a big indoor playground as well as a smaller one for younger kids. Onsite is a cafe too. All my kids aged 4-10 enjoyed this place.
Entry is charged and note that you also need to have their socks to play.
TwistED Science
Address: 2 Radcliffe St, Echuca
Opening Hours: 10am to 11:30am, 12:30pm to 2pm, 2:30pm to 4pm (Wed-Sun), Open daily during school holidays
Price: $18
Echuca's own science museum is the place to head for indoor educational activities that are lots of fun.
Full of interactive play stations, this is a science museum that encourages very hands on play and even has a cool "climb" exhibit which is an augmented reality gaming and climbing wall that looks like lots of fun.
Unfortunately, we didn't quite make it into this attraction – we had tickets but then the closure of the state border between Victoria and NSW meant we had to leave early and miss this place. Next time!
You can find more information here.
Rich River Golf Club Mini Golf
Address: Twenty Four Ln, Moama
Opening Hours: 6am to 12am (Sun-Thu), 6am to 1am (Fri & Sat)
Price: Starts from $10 for adults (9holes)
One of the fun things to do around Moama for families is the Rich River Golf Club Mini Golf.
This is a nine hole mini golf course that replicates what you would find in a real golf course. There isn't much in the way of novelties but it is a fun mini golf course and you can go around twice to get 18 holes.
Find more information here.
Moama & Echuca Adventure Play Park
Address: Lot 266 Perricoota Rd, Moama
Opening Hours: Daily
Price: Entry is free but gold coin donation is encouraged per child
For a fun playground head to this big wooden playground in Moama. There's space for picnics here too as well as a toilet.
A gold coin donation is encouraged per child for the upkeep of the playground which I found a bit strange but it is a well maintained playground.
Aqua Island Moama
Address: 1725 Perricoota Rd, Moama
Opening Hours: Usually open December to April, 10am to 4pm
Price: $25 per person, spectators free
When the weather heats up one of the activities in Moama for kids is a visit to Aqua Island. This is basically an inflatable playground floating on the river! It is large with lots of obstacles for kids to navigate including climbing walls making it one of the very fun Moama activities.
The park is suited for kids from 3 years old. Supervision is limited, however, and kids under 7 need another paying adult with them, and kids 7-12 need one supervising them.
Final Words
We love Echuca! If you want to visit a pretty town with a good range of attractions that is just a nice place to be, head to Echuca and Moama.
We really enjoyed our time here with the interesting history, the paddlesteamers, the port, the penny arcade, Horseshoe Lagoon… everything! There's a great range of accommodation and food and we had a great stay.
We last visited this area in July 2020 just before they announced the state border closure. Right now, when writing this at this time, I would not recommend a visit here for obvious reasons. However, once the situation improves, I definitely recommend Echuca as a great place to visit for anyone.
You can read more Victorian travel guides here or find our guides to another Murray River city here with Albury-Wodonga.