Going on a Mareeba trip and want to know all the best things to do in Mareeba, Qld? We have you covered! Below you will find our guide to exactly what to do in Mareeba to plan your ultimate trip.
Located in the Atherton Tablelands region of Far North Queensland about an hour's drive from Cairns, Mareeba is like a different world. Less rainforest but still quite green with some great hiking opportunities, Mareeba is home to a great range of Mareeba tourist attractions and it's easy to spend a few leisurely days here enjoying the area.
Known for its coffee plantations and rodeo, there is more to Mareeba than this. The largest town in this region (albeit still on the small side), there are plenty of services. It's known as the food bowl of North Queensland and there's some great produce to taste as well as friendly animals to meet. It's also known for having 300 rain-free days a year, perfect for exploring!
The name Mareeba itself is thought to come from a local Aboriginal word meaning "meeting of the waters" due to Mareeba's location where the Barron River and Granite Creek meet.
Below, you will find our Mareeba travel blog with everything you need to know about the best Mareeba attractions, all the top Mareeba things to do options as well as the best places to stay for your ultimate holiday in Mareeba!!
Top 17 Things To Do In Mareeba, Qld
Here are the best things to do around Mareeba. Read through and select the ones that fit your interests and timeframe.
I travelled to Mareeba with my three kids aged from 5 to 11 but it's a great place to visit for all ages.
Explore Granite Gorge Nature Park And Meet Rock Wallabies
Located about 15 minutes drive from the centre of town, this is our favourite of the things to do around Mareeba.
Granite Gorge Nature Park is a privately owned park and campground with a few cabins. It also caters to day visitors with some great walking trails, scenery and the chance to meet gorgeous rock wallabies.
It's an easy drive here and on arrival, we paid our entry fee and were given an introduction to the hikes as well as some wallaby food. There are two choices – a shorter one and then a longer one which branches off from this trail. We did the shorter trail.
The trail starts with meeting the rock wallabies. They are super friendly and weren't at all scared of us. We fed them and talked to them before setting out on the rest of the hike.
It's a great hike but does involve scrambling up and down rocks. Our just-turned-five-year-old could do it surprisingly well and it was an achievable work out for the rest of us. However, you would want to be able bodied and shorter legs would find it tricky.
The walk is super picturesque and all the huge boulders make for different scenery than we are used to seeing. It's a good length for families.
There's also swimming holes around the hikes and other landmarks. It's great!
Back at the park reception there are some birds, reptiles and guinea pigs that you can hold and play with. Our kids loved the guinea pigs.
All in all, this is a top place to visit in Mareeba and I recommend it a lot.
Check Out Mareeba Heritage Museum
Towards the centre of town, this one of the things to do Mareeba offers is also a must visit. It is a surprisingly awesome local museum.
I have been to many small regional museums across Australia which contain a couple of small informative rooms with some old photos, letters and information boards. This museum is nothing like this.
It tells the story of Mareeba's past with sections on the original Aboriginal inhabitants, early settlers, World War I and the town itself. This is all located in the modern new building and is well presented.
Then outside, there is a range of other exhibits which take this small museum to another level.
There's a mini town set up with a range of shops like a blacksmith's shop, bar, a telegraph exchange and an old gaol. There's a railway carriage and railway ambulance to look through as well as an original building of the town all set up with old items.
My kids loved looking through all of this and it led to a lot of imaginative play. There are also a couple of exhibits just for children with a touch table and musical instruments.
I particularly enjoyed the tobacco part of the museum which is its own building. At one point, this area was important in the Australian tobacco industry with 70% of Australia's tobacco grown here. There's a lot of interesting information on this.
It gets even better though as this museum is free! There's a café on site in the middle of the outdoor exhibits and I also recommend it as a great place to eat lunch while you explore more of the exhibits.
Have Your Morning Coffee At Jaques Coffee Plantation
If your morning doesn't start until you've had a cup of coffee, a visit to Jaques is a must whilst in Mareeba. Deemed as one of Australia's premier coffee plantations, this massive estate rolls away into the distance, holding over 85,000 Arabica coffee trees, plus the estate has the world's first coffee harvester and its own roaster!
At the heart of the plantation is a great spot for lunch, the licensed Jaques Coffee Plantation Cafe & Restaurant. There's a wonderful deck to relax on and the menu is vast with burgers, salads, seafoods, specialty cakes and you can chase it all down with beers, wine and – of course – some of the best tasting coffee you'll ever try. There's a barista made espresso house coffee and an onsite roastery to sample too.
To build up an appetite before lunch (or perhaps better still after lunch to walk off the calories!), take a self-guided 30-minute plantation tour to learn more about coffee – how it's grown, cultivated, and the manner in which it's sold and packaged – and you can also watch a short film in their theatre.
Or elect, as we did, for their 1-hour guided tour that includes extras such as a behind-the-scenes look at the factories and roastery (which the kids enjoyed), plus coffee liqueur tastings (which I enjoyed!).
If your budget allows, there's a strange add-on available here as the plantation has its own small airstrip. Visitors can fly-in by helicopter or – more interestingly – you can take an adventure flight in a gyrocopter or microlight aircraft. Flying across the plantation you really get the feel for the sheer scope of the business, making this a unique and magical Mareeba adventure!
This family-owned business has been in operation for over 40 years and is well worth adding into any Mareeba itinerary thanks to their delicious food, the great views and lip-smacking coffee!
Located at 137 Leotta Road, Mareeba.
Visit Mareeba Tropical Savanna and Wetland Reserve
Inspired by the world famous Bharatpur wetland in India, the Mareeba Wetlands came about in 1994 when 2500 hectares of reserve was protected to cover for the significant loss of natural wetlands in the region.
Part community conservation project, part environmental education programme, mixed in with a whole lot of nature-based tourism, over the years the reserve has been transformed to offer eleven man-made wetlands of high ecological value, all linked together by 20 km of roads and tracks.
These lagoons and channels lie in a savanna reserve of over 5000 acres providing a sanctuary for a plethora of wildlife and cultural heritage.
Trek options are self-guided, ranging from 2km to 15km trails (with maps available at the Clancy's Lagoon Visitor Centre – the starting point for most walks). Fairly easy to navigate, the trails are well marked and you're in for some spectacular views along whichever route you choose.
Plus, you can pick-up a picnic from the centre to enjoy along the way or stop at the Ccafe there for drinks and snacks or to use the toilet facilities. There's a small entrance fee at the Visitor Centre – $10 per adult when we visited.
If you fancy cruising on Clancy's Lagoon (the second largest in the reserve), you'll find canoes to rent (and we're talking hand-made beautiful timber canoes which seat 2 adults or 1 adult with 2 children).
Alternatively, join a guided 30-40 minute boat cruise for a peaceful glide in an electrically operated Buralga (houseboat) which was a big hit with our kids. Either way, you'll come close to lots of birds (including many geese) and even perhaps freshwater crocs. Keep an eye out too for the gorgeous azure kingfisher along the banks, a stunning sight against the backdrop of green vegetation.
Or perhaps you're here to check out the bird hides, hoping to glimpse some of the more famous winged visitors? These include important and rare species such as sarus cranes, cotton pygmy geese, black-throated finches and the wonderfully named buff-breasted button quails! And you'll find birds of prey such as osprey, kites, hawks, eagles and swooping falcons.
In fact, the site holds one of Australia's longest bird lists (over 200 species) and is a mecca for almost all of Australia's tropical water birds. It's a paradise for twitchers.
In the middle of all this are luxurious safari tents, operated by Jabiru Safari Lodge, your overnight stay option. Available outside of the Jan-Mar wet season, the tented accommodation is grand with private decks, lighting, insect screens and attached ensuites. There's also a well-equipped camp kitchen (with barbeque dinner packs available), a communal campfire area, and even an outdoor jacuzzi.
But the bottom line is that everyone is here to discover the vast lily-littered lagoons and the wild bush savanna. Wildlife and birdwatching tours, bushwalking, fly fishing and photography sessions are all available for private or group experiences.
If you're limited on time, we recommend combining interests with a Sunset Reserve Safari that departs at 3.30pm. This incorporates a bird-watching cruise, ranger-guided savanna drive (we saw wallabies, kangaroos and giant termite mounds), a "billy" tea, a bird-hide stop and that's all followed by yummy Aussie wine and cheese. It's definitely one of the better ways to spend an afternoon!
If you're an early riser, you can join their Early Birders Safari – as the mornings are said to be more alive with the hustle and bustle of feathered residents.
The best time to visit the wetlands is April through to December, with the reserve usually closed January-March. May is awesome as the Brolgas and Sarus Cranes arrive, and August or September are equally great as red-tailed black cockatoos swarm in, plus as the lagoon dries out in these months, it becomes easier to spot kangaroos, wallabies and emus.
Located at 142 Pickford Road, Biboohra, it's an easy 6.5km drive north of Mareeba on a gravel road.
Cool Off In Emerald Creek Falls
Another wonderful slice of nature can be experienced at Emerald Creek Falls, a gorgeous cascading waterfall that spills down over large granite boulders in the middle of the Dinden West Forest Reserve. Rated as one of the prettiest waterfalls in the whole of the Cairns region, the falls are an ideal stop on your Mareeba itinerary, located in nearby Atherton Tablelands.
Drive southeast of Mareeba just 16 km, with the last part from the turn off to the falls on an unsealed road. You don't need a 4WD to handle it. However, you do need to drive slowly as there are lots of kangaroos and wallabies along the road until the car park.
You'll easily spot the walking trail to the falls, and at around the 5 minute mark you'll come to a fork – a choice between Bottom Of Falls or Falls Lookout. Time to decide whether you're here for a swim or to enjoy the views!
If you're heading down for a dip, follow the blue arrows painted on the large boulders. Walk across smooth rock faces and cross bridges that span the creek – nothing too difficult – until you reach the beautiful falls. Or you can stop at a number of smaller rock pools along the route that are also great for a more away-from-it-all swim.
But wherever you decide to take a dip, prepare yourself, as the water is cold. Freezing, in fact, giving quite the rush of adrenaline when you first jump in!
We found this a really pretty spot, as the water flows down over the boulders all surrounded by eucalypt forest. There's gnarly, twisted tree trunks that reach out across the water and small red flowers sprout between the rocks. At the base of the falls, a surprisingly calm pool makes it a safe swim for all ages.
There's plenty of space here too, so even though it's a popular spot, you'll find a place to settle down for a picnic lunch, or just to relax and admire the spectacular falls. Dragonflies buzz, birds tweet and there's the constant hum of the falls.
Once you've refreshed, it's time to head up the 1.9km trail to the Lookout, passing enormous black volcanic rocks and massive ant mounds. Once at the top, you're in for some great views of the falls and out over the valley across the northern Atherton Tableland.
A favourite off-the-beaten-path spot that's mostly visited by locals, pencil out at least 2-3 hours to really enjoy yourself here.
Go Bushwalking In Davies Creek National Park
On the western side of the Lamb Range you'll find Davies Creek National Park. This is the drier, rain-shadowed side of the slopes, meaning a wonderful eucalypt woodland that's a favourite spot for trekking or forest picnics.
Spread out amidst the rocky platforms and under shady trees alongside Davies Creek, there's a handful of spacious picnic areas (plus you'll find some camping facilities if you plan to stay longer). There are ample pools for a cooling swim and Davies Creek Falls is another magnificent waterfall that cascades over huge granite boulders (similar to Emerald Creek Falls).
But mostly, visitors come for the moderate trail: the Davies Creek Falls Circuit Track. A lovely trail of 1.1km, it leads you to two lookouts – one that provides a view back along the valley and a second that overlooks Davies Creek Falls as it plunges away.
Commencing at the car park, 2km past Lower Davies Creek camping area along Davies Creek Road, the trail is well marked. After the second lookout, the trail takes you alongside a tranquil section of the creek.
Here, you'll find paperbark trees, pandanus and banksias before reaching a picnic and swimming area. it makes for a great short hike for all ages as you can rest up or, as our kids chose, enjoy a swim in the clear spring water. Once rested, you can follow the path on to return to the car park up a slight slope dotted with grass trees.
You'll find a few steep sections but mainly this is a gorgeous open forest and an easy walk. But don't forget to take water with you as some sections are quite exposed and you'll feel the heat here more than other walks in the region.
You can allow a leisurely 3-4 hours here, but if you're looking for a full day out why not combine with another of the many bushwalking trails in the area, such as the 1.9km Bunda Bibandji Rock Art Walking Track or the 8km difficult Turtle Rock Circuit Trail. Alternatively, add-on a stop at Emerald Creek Falls for a refreshing dip before returning to Mareeba.
Hike Up To Lambs Head (Kahlpahlim Rock)
Adjacent to the Davies Creek National Park is the Dinden National Park that also straddles the Lamb Range (the string of mountains that run behind Cairns). The highest point of these mountains is Kahlpahlim Rock and for those of you looking for a challenging hike… This one's for you!
At around 1300m above sea level, Kahlpahlim Rock (sometimes known as Lamb's Head) offers impressive views over the Davies Creek, Atherton Tablelands and over to Cairns. There are two steep but stunning trails that lead you to the granite boulders of Kahlpahlim Rock, and they converge at the top allowing you to walk the track as a circuit.
Ridge Trail – A Grade 4 trail that takes approximately 5 hours and covers 9.2km on a return route. Commencing 11km along Davies Creek Road, the path winds its way through open forest full of tall rose gum, turpentine and casuarina trees. There's a steep incline under partly shaded, partly open country, and around the halfway mark, you need to take the left-hand trail at the junction before walking another 1km to reach the enormous granite boulders of Kahlpahlim Rock.
Kahlpahlim Rock Trail – This route is also a Grade 4 and takes approximately 6 hours covering 10.8km on a return trail. Starting 13.3km along Davies Creek Road, you'll ascend steeply along a former logging track. Then follow a stunning stretch through rainforest filled with blue kauri pine trees before you'll cross two small creeks. Next up comes a steep walk through a dry forest of casuarina and banksia trees, whereby you'll eventually come to the junction around 4.4km into the trail where you can walk 1km along the right-hand trail to Kahlpahlim Rock.
The combined circuit, known as the Kahlpahlim Rock Circuit or Loop, takes approximately 6-7 hours and is a 12.3km circuit. You can choose to walk the circuit by commencing at either trail and returning by the other but bear in mind the additional walk along Davies Creek Road to meet your vehicle.
Grade 4 means that trails are suitable for experienced hikers but some navigation and possibly "technical skills" might be needed – "Trails can be rough and steep, with rock scrambling and river crossings sometimes required."
Obviously not being one for kids we didn't attempt this hike, but if this sounds like something for you we'd recommend the longer Kahlpahlim Rock Trail. It passes through more vegetation and is thus a more shaded route. However, it's definitely steeper than the Ridge trail. Either way, you'll find both routes well marked by orange arrows and ribbons on the trees, and the view from the top looks damn spectacular!
Check out a handy trail map here.
Take In The Views From The Skybury Cafe Deck
If you want a delicious meal with great views and the chance to learn more about the local coffee industry, you'll want this one of the Mareeba attractions high on your must do list!
This café is best known for its big deck looking over the surrounding area, but it also has great food and coffee. Being located on a coffee farm means this is a great opportunity to learn more about this industry too and there are information boards, some displays and a cinema showing a tour of the plantation. All of this is simple and free.
You can stop by for a coffee or lunch. I recommend the pulled pork burrito. There's also a well priced gift shop on site.
Soar High In A Hot Air Balloon
The Atherton Tablelands are an epic hot air ballooning location, full of sweeping savannah lands that cover an astounding 20,000 sq km that are just ripe for exploration by air.
We didn't get the chance to experience this but can imagine there is simply no better way to view a dramatic landscape such as the Atherton Tablelands. Imagine the thrill of getting up early, watching the (unbelievably massive) balloon inflate, and then slowly rocking off the ground before silently gliding through the air… It's no wonder this old form of transport continues to capture our imaginations.
There are a few operators in the region, mostly offering a 40-minute ride but the entire experience usually takes around 4-6 hours with door-to-door pick up service, safety briefing and commemorative certificates presented at the end.
You'll find trips offered for 3-year olds and upwards, and though you don't need to be fit, you do need to be able to stand for the duration of the flight and to enter/exit the basket. Remember to wear comfortable shoes, casual clothing (as you can get a little dirty from the basket), a hat and sunglasses. Sunscreen too is handy and if you have an early pickup then it's best to dress in layers as it can be nippy in the early hours.
And what will you see? 360-degree views of the Atherton Tablelands which includes rainforest, mountains, waterfalls, rivers and creeks, plus animals that come to life as the sun raises her head on the horizon.
Often referred to as the ballooning capital of the world – thanks to the region's regular good weather – don't miss this magical Mareeba experience!
Celebrate And Camp At The Mareeba Rodeo
Mareeba events don't come much louder or more popular than this one!
With the first Mareeba Rodeo held in 1949, the event has since gone on to become a national icon on the rodeo calendar. Taking place every July, the annual rodeo and festival pulls in travellers from all corners of Australia.
This year's event was scaled down to 1-day due to the pandemic but you can expect things to ramp back up to the longer 2-day full-on action extravaganza soon. Bull rides, saddle broncs, steer wrestling and more can be enjoyed, to a backdrop of country music tunes spun by live DJs who play late into the night.
The fun continues outside of the Rodeo, at the Bronc and Bull Bars – again with live groups or DJs, flowing beers, plus a full side show alley with market and food stalls open until late.
A fantastic family affair, with entertainment for all ages, the Rodeo is a feast for your senses – full of noise, smells and thrilling action. Keep an eye out here for tickets.
But that's not all, as you can camp at the adjacent Kerribee Park Rodeo Grounds which are open all year round. There's over 100 powered sites and plenty of unpowered. There's also hot showers, toilets, guaranteed mobile reception plus laundry facilities. Do note that pets are permitted and you'll often also find kangaroos and wallabies grazing around the park.
The camp operates a no-booking policy, with camping allowed for a maximum of 2 nights unless you have special permission to stay longer. However, during the Rodeo Weekend the purchase of your day pass permit allows the holder to camp Friday and Saturday night at non-powered camping sites only. More details here.
Go Stargazing
Mareeba or the nearby Atherton Tablelands are prime dark-sky country, ideal for spotting planets, star formations, bright star clusters, the Southern Cross, nebulas and so much more!
Depending on the time of year, you have a good chance of seeing either Saturn with its splendid rings or, as we did, Jupiter plus its moons. It was really awesome to view the planet through the telescope and realise that we're not that far away from each other. No surprise that viewing the planet was the highlight of the evening for our kids!
There are a couple of companies offering tours, with one being Night Sky Secrets. They use large aperture telescopes and a guide will talk you through a tour of the night sky: what you can see and what's hiding. Viewings take place from a 5,000 acre property known as Kanjini.
Arranged for small groups or larger up to a maximum of 12 guests, the guide tailors his explanation based on the experience of the listeners. For example, whether you're a knowledgeable astronomer or a beginner, there's something in this for you.
Usually running from May to November, the evening commences at 6.30pm with a hot meal and lasts around 3 hours (or there's overnight camping for those that want to maximise the experience).
It's usually a case of self-driving to the meeting point and tours typically run from three days after a full moon to three days after the new moon. This ensures a dark moonless sky but private tours can be arranged outside these days where the focus – under a moonlit sky – is on the moon itself plus whatever else can be spotted.
Aboriginal astronomy stories are a strong feature of your journey across the night sky, as towards the end of the evening, your guide relates tales of old whilst brewing tea over the campfire.
Tours at our time of booking (2021) were $140 per adult and $80 per child from 6-15 years of age. There was a family ticket available too,and children must be 6+ years old to attend.
Young or old, you'll be mesmerised by the expanse of sky and the seemingly endless twinkle of stars in this big-sky country. There's a terrific educational slant to the trip that's ideal for younger joiners. Learn more here.
Watch A Movie At Mareeba Drive-In Cinema
Stranded at the drive-in, Branded a fool, What will they say, Monday at school?
It's fair to say that the movie Grease brought about my love of drive-in cinemas and I make it a point of trying to catch a movie at any I find! And the one in Mareeba is as basic as they come… with parking slots designed in a semicircle in front of the large screen and a small kiosk to the rear selling hot snacks and drinks, shakes and ice creams.
However, what's rather awesome about the Mareeba Drive-In Cinema is the stunning night sky, which was proudly displaying the milky way above the screen during our visit. This truly is big-sky country!
First opened in 1960 as the Rodeo Drive-in, it does feel that little has changed, and that's perfectly fine! Operating at weekends year round, the cinema shows first run and double-feature movies. Usually commencing at 7.30pm (with entrance from 6.30pm), the entrance fee covers the double-features. Plus, there's free camping here too for movie nights.
You can check out the website here (which feels as old as the drive-in) or the modern Facebook page here.
Located at 5303 Kennedy Hwy, Mareeba, just a few minutes south of the town centre.
Taste Freshly Brewed Coffee At CoffeeWorks
Did you know that the Mareeba region grows more than 80% of Australia's coffee crop… that's a whole lot of brews!
And Coffee Works is, in their own words, a Mareeba powerhouse for all things coffee which includes a snazzy espresso bar (open daily 8am-3pm), a drive-by cart (open weekdays 6pm-11pm), and a fabulous chocolaterie (with high prices to match!).
So you can pop in for brunch or lunch at the Espresso Bar with yummy toasted sarnies, slabs of cake with cream and – of course – delicious coffees. Whilst the Drive By in the car park specialises in hot-shots keeping you warm through the evening.
Without a doubt our family's favourite was the chocolaterie with highly decorative "edible art" on sale. These included decadent handcrafted butterflies, fish, turtles, stars, eggs, pizzas or special edible "with love from Queensland" gifts to take home. They also have some of the largest bars of chocolate we've seen!
Take a break from eating and drinking and dip into their Coffee World Museum filled with the aroma of 500-years of coffee-making history. Housing one of the world's largest collections of antique coffee and tea-making machinery, it's a surprisingly detailed museum.
The world's first espresso maker, the first plunger, the first filter and the first vaculator are some of the delights on show. Plus, you'll discover illustrations showing the beginning of the coffee trade in Ethiopia and Yemen from way back in AD800. In fact, you'll learn the entire history of coffee (and tea) making.
Entrance to Coffee World also includes unlimited tastings of 21 Australian, international and blended coffees, along with four local plantation teas… Best not to try them all otherwise you'll be buzzing for hours!
No trip to Coffee Works is complete without trying a little tipple from their coffee liqueur selection, sending you off with a warm feeling in the stomach.
Coffee Works, incorporating Coffee World, is at 136 Mason Street, Mareeba. Careful, it's addictive!
Shop Local Goodies In Mareeba Markets
A Mareeba institution, the Mareeba Markets run throughout the year on every 2nd and 5th (when applicable) Saturday of a month.
Stalls are set up early at Centenary Park, opening 7.30am through until 12.30pm, come rain or shine.
Stroll the long line of stalls and displays that showcase local goodies – both grown and handmade products – and lots, lots more. Purchase gifts, live chickens, homemade cakes, fresh watermelons, hot sauces, cushions and throws… A truly eclectic selection of things you need plus a plethora of those that you don't but might just be tempted to splurge on!
Making the markets extra special is the country-fair atmosphere that's created by the myriad of buskers that liven and brighten up your route through the 100+ stalls.
The markets can be found at Mareeba's Centenary Park on Byrnes Street next to the Heritage Museum.
Taste Award-Winning Passionfruit Wine
This area is known for its fresh produce and one of the uses of the fruit grown in this region is to make wine. If you haven't tried mango, passionfruit or lychee wine before, this is your chance!
De Brueys Boutique Wines is home to award winning passionfruit wine and you can taste it along with their other types if you stop by. Tastings cost $5 (which is deducted from any purchases) and take place in a pretty spot. They allow you to taste their fruit wines, fortified wines, creamy liqueurs and special coffee and rum and chocolate liqueurs.
While fruity wines do taste different than regular grape wines and weren't exactly to my palate, they were fun to try and enjoy.
De Brueys Boutique Wines is located just out of town off the main highway in from Kuranda.
Taste Homemade Ice Cream At Emerald Creek Ice Creamery
You won't want to miss a visit to this one of the fun things to do near Mareeba – perfect for a stop after some exploring.
Emerald Creek Ice Creamery make their own ice creams and sorbets packed full of local fruit. It's delicious!
There's some other desserts and products on site as well as souvenirs. It's located by the main highway between Kuranda and Mareeba so it's very convenient if you are travelling between the two.
Visit Kuranda
Less than 30 minutes from Mareeba, Kuranda is a fun day trip. There are so many things to do in Kuranda that you could fill a couple of days easily.
Start with a trip to Rainforestation where you can learn about Aboriginal culture with a dreamtime walk, dance performance and spear presentation. Get ready to learn how to throw a boomerang as well! While there, you can also explore their nature park and hop in a World War II army duck to learn more about the local rainforest flora and fauna both on land and then in a lake as the army duck drives straight in.
Next up, take your pick from the Australian Butterfly Sanctuary, Kuranda Koala Gardens and Birdworld Kuranda. Located close together, you could also visit all three with enough time.
For the ultimate Kuranda experience, you can also choose to take the Skyrail Rainforest Cableway back into Cairns and then the Kuranda Scenic Railway back to Kuranda again. This is a great way to see more of the rainforest up close.
There are so many fun things to do in Kuranda so if you are only taking a day trip, you'll need to be fussy. My top recommendations are Rainforestation and the Skyrail and Scenic Railway.
You can read our full guide to visiting Kuranda here.
Mareeba Things To Do Map
Best Place To Stay In Mareeba
A rural town, Mareeba isn't well known for its choice of accommodation. Yet we've searched out a few hidden gems for you, offering a budget, mid-range and more expensive option.
Do keep in mind that all the activities mentioned will keep you very busy, most likely out of your hotel or motel all day. So practical accommodation is perhaps key when in Mareeba; somewhere you can relax and dine well after an action packed day!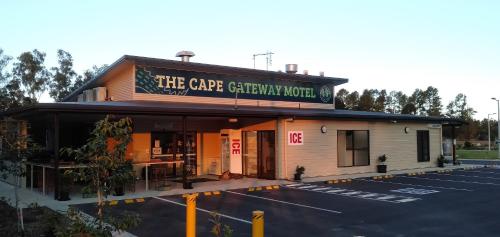 The new kid on the block, The Cape Gateway Motel opened in summer 2020. Thus, you're assured of modern, immaculate accommodation.
Located just outside of town, about 2km on the road to Cape York, this small motel offers a spread of accommodation options from budget single rooms through to queen rooms, to what we rate as the best accommodation in Mareeba – deluxe ensuite motel rooms.
The deluxe family room (located on the ground floor) includes air-conditioning, a private patio, toiletries and comes with free parking. A little cozy, there's a double bed and sofa bed that is just right for a family that will be spending most of their time out of the room exploring Mareeba.
Or you can splurge on their stand-alone 2-Bedroom Cabin with a master bedroom with queen bed and second room with two single beds, separate lounge, plus a small kitchenette with bar and microwave.
Regardless of room type, all rooms include a flat-screen TV, fridge, tea/coffee maker and private bathroom.
You don't need to worry about being out of the main town as Cape Cafe & Big Willies Bar are located onsite, with delicious menu items such as Salt n Pepper Squid, Wagyu Burgers, plus cold craft beers on tap. There's a quiet garden to relax in too, plus free WiFi throughout the motel for all guests and a paid laundry service. Hotel staff are super friendly and happy to help advise or book your tours.
The food alone made this our standout choice, along with their modern and new accommodation and promise of country hospitality.
Click here to see the latest prices.
Centrally located in town, the Jackaroo Motel is our mid-range recommendation for your Mareeba accommodation choice.
There's a few different room types on offer and all contain a small living area, air-conditioning, digital flat-screen television, tea/coffee making facilities, a handy ironing board and iron, a fridge, microwave and ensuite bathroom.
Rooms are overall basic but clean and bright. Available are single, double, twin, a family room and a 2-bedroom self-contained apartment.
A highlight of the Jackaroo Motel is the outdoor swimming pool and surrounding gardens with tables under umbrellas. Plus, you have the use of two BBQ areas in the gardens (motel staff will provide complimentary BBQ baskets with plates, sauces, etc), free WiFi and Foxtel.
A continental or cooked breakfast is offered, served in-room. Lunch packs can be purchased if you're planning on a day's tour.
Staff (available 24/7) will help advise on Mareeba tourist attractions and also have handy maps to help you on your way. If you're self-driving, you can usually park your car under covered parking right in front of your room.
Directly opposite the Mareeba Heritage Museum and Information Centre, you really can't get more centrally located than this! Coffee Works is walking distance and the Mareeba Markets are set up opposite too.
Click here to see the latest prices.
Looking for a country-style cheap accommodation option, perhaps Mareeba Motor Inn is the place for you.
About 2km north of the town centre, your accommodation here is in little cabins – that come in single (queen bed), double (queen), twin (queen and single) or family size rooms (good for 4 people with one queen and two single beds). All come with a refrigerator, tea/coffee facilities and an ensuite bathroom.
There are also single and family self-contained units that come with a full kitchenette if you're looking for that home-away-from-home experience.
Regardless of room type, you'll enjoy car parking directly outside your room and have a television and air-conditioning. There's a paid laundry service and free WiFi too. You can enjoy a small pool, a games room with darts and billiards and bbq facilities in the garden.
Dining is well taken care of with a fully licensed restaurant and bar on site, with a bistro-style menu. Open Monday to Thursday, it's best to make a booking as this is a popular venue. There's a breakfast bar on offer from 5am for any early departures and staff are happy to make up lunch boxes if you're heading out for the day.
A good thing to note is that if you're thinking of staying longer you can negotiate a special rate, so be sure to discuss your stay with the owners before making an online booking.
Click here to see the latest prices.
How To Get To Mareeba
It's easy to get to Mareeba by plane, bus or car. If you have your own car, great! You are good to go and can maximise your time to enjoy more of Mareeba.
Regular flights are available to Cairns from major cities in Australia. Driving from Cairns takes about an hour or you can take a bus and travel for approximately 1.5 hours.
Car hire is a great option. We hired a car from Cairns airport and drove here. You'll want a car once you arrive to see all the sights anyway.
Click here to find the best car hire options.
To see all the latest flights and prices, click here.
Mareeba With Kids
Mareeba is a fabulous place to visit with kids. We know because we took our own! There are some great family friendly attractions in Mareeba and our kids particularly enjoyed exploring Granite Gorge Nature Park and meeting rock wallabies. And, of course, Emerald Creek Ice Creamery ☺
The Mareeba Heritage Museum was a surprise hit – it's just so well set up and perfect for all ages so make sure it's on your list! I loved how the shop fronts encouraged some great imaginative play.
Wherever you head in Mareeba, you can have a great time here with your kids.
Final Words
Mareeba is a fabulous place to visit with some great attractions. It might not be as famous as it's Cairns counterparts but it's a great place to head on a day trip from Cairns or for a longer stay and we loved exploring this part of Far North Queensland.
I hope you enjoyed the guide to things to do in Mareeba, Qld. Read more Queensland travel guides here or find our guide to nearby Kuranda here and Cairns here. I also highly recommend you consider a visit to Undara Lava Tubes as well while you are in this region. Click here for full details.