Going on a Rockhampton trip and want to know all the fun things to do in Rockhampton, Australia? We have you covered! Below you will find our guide to all the best Rockhampton attractions as well as the top Rockhampton things to do options to plan your ultimate trip.
One of the oldest cities in Queensland and in Northern Australia, Rockhampton has been known under some weird nicknames!
Initially referred to as the City of the Three S's – Sin, Sweat and Sorrow – symbolising the construction of the town's port in the late 1800's at the start of the North Australian gold rush, fast forward to today and it's known as the Beef Capital of Queensland. Thanks to supposedly 3 million head of cattle within the region, you can be sure that beef is on the menu!
Yet the city is equally famed for its historical and cultural institutions such as the Rockhampton Art Gallery and the Rockhampton Heritage Village. The town is the gateway to the famed Capricorn Caves and Mount Archer National Park, and to regions such as Yeppoon – filled with unbelievably stunning beaches – and Great Keppel Island, one of the best island getaways on the Southern Great Barrier Reef. Basically, there's so much stuff to do in Rockhampton!
A booming city, full of modern twists together with relics from its colonial past, set alongside a peaceful riverside setting, Rockhampton is bordered by the Berserker Ranges. This is great for outdoor adventurers, thanks to epic cycling tracks, hiking trails and the stunning Nurim Circuit Elevated Boardwalk.
And with Outback experiences at your doorstep, Aboriginal history explored at the Dreamtime Cultural Centre and Kangaroo encounters at the Zoo, you're definitely in the land of Oz!
Below, you will find everything you need to know about the best Rockhampton tourist attractions, all the best things to see in Rockhampton as well as the best places to visit in Rockhampton for your ultimate holiday!!
Top 13 Fun Things To Do In Rockhampton, Australia
Here are the best things to do around Rockhampton. Read through and select the ones that fit your interests and timeframe.
Explore The Rockhampton Botanic Gardens
Much more than just your average gardens, The Rockhampton Botanic Gardens are heritage-listed and one of the oldest public gardens in all of Queensland. And with Queensland's tropical climate and free entry, we found it a great place to start our Rockhampton discovery and our pick of things to do in Rockhampton for free!
Taking over 50 years to build, work on the gardens commenced back in 1873 and was finally completed in the 1930's. There's over 33-hectares to discover, across a series of gardens that incorporate both natural and planned designs.
Split into lower, upper, outer gardens, and the war memorial and arid gardens, our favourites included the Japanese tranquility garden, and the sombering Cenotaph honouring Australian soldiers. Check out the Hugo Lassen Fernery – home to rock gardens and an exotic fern collection unlike anything we'd ever seen before!
The gardens are bordered by the Murray Lagoon and the Yeppen-Yeppen Lagoon which only adds to the abundance of birds around the area. And for younger visitors there's a children's playground that's shaded by stunning weeping figs.
You'll also find a grilling area here if you fancy a bbq or check-out the nearby 'Gardens Tearooms', hidden away under a 150-year old banyan fig tree. But we chose to take along a picnic and ate next to the Murray Lagoon, chilling out for the afternoon enjoying the splendid views.
Back among the gardens, search out the old buildings such as the original curator's cottage and the finch aviary that dates back to circa. 1880. There's also a Kiosk from 1912 and the War Memorial from 1924 is also worth a look.
Altogether this is a relaxing place to visit, whether for a family picnic, a romantic stroll through the gardens, to give the kids a chance to let off steam at the playground, or simply to search out some quality 'me' time!
Enter the gardens from Spencer Street through ancient iron gates or the less busy entrance from Ann Street which takes you through an avenue of bunya pines and glorious bougainvillea. Open daily from 6am to sunset, the gardens are also home to the Rockhampton Zoo making this a terrific full day out venue and the pick of free things to do in Rockhampton!
Spot Wildlife At Rockhampton Zoo
Perhaps the premier attraction in Rockhampton and perfect for things to do in Rockhampton school holidays, the Zoo – located within the Botanic Gardens – was first established in 1925. Over the years the variety of animals have grown from just a handful of monkeys, possums, guinea pigs and peafowl, to today over 60 species of Australian and exotic animals!
Cheeky chimpanzees, cute otters, snappy crocs and cuddly koalas are just some of the array of animals on display at this peaceful and green zoo. Habitats have been carefully and considerately crafted, making this a great zoo to explore for all ages but especially a top family Rockhampton attraction.
We enjoyed the uniqueness of the Australian Wetlands zone, with a massive saltwater crocodile known as "The Colonel". And Kangaroo Country enclosure is full of the iconic bouncy marsupials, delightful to see up close. There are many feeding sessions to join and post-COVID19 the zoo's afternoon daily Keeper Talks will resume.
Altogether there's a whole load of family fun to be had here for a full day out with zero entrance fees! And don't forget, the Rockhampton Botanic Gardens has a magical setting for lunch at the Garden Tearooms set under 150-year old banyan fig trees.
Prior to your trip, download the Zoo Visitor Map here. Open every day except for Christmas Day, 10am-4pm with free access, this is our No.1 selection of things to do with kids in Rockhampton.
See Spectacular Views From Mount Archer
When planning our own itinerary, a visit to Mount Archer (Nurim) National Park was top of our list of things to see and do in Rockhampton. Protecting bushland remnants of the Berserker Ranges – the scenic backdrop to Rockhampton – at 600 metres above sea level Mount Archer is the highest peak.
With over 4250 hectares of open forests, woodlands, plus dry rainforest at Moores Creek Valley, the park is truly a nature-lovers dream. Named after the Archer brothers that explored the Fitzroy area in 1853, the region has been a national park since 1994.
Perhaps the most famous of attractions in Rockhampton (and the one that we all wanted to experience!) is the treetop boardwalk Nurim Circuit. Top of most Rockhampton bucket lists, the boardwalk extends off (yes, really!) the side of Mount Archer. This 500-metre walk offers spectacular views of the city and Fitzroy River, stretching way off into the distance.
There's some handy signage along the way which explains about the local Darumbal culture, and you can choose to visit for either sunrise or sunset as both are equally spectacular.
After the quick Nurim Circuit, it's best to plan out a longer hike as there are stunning views from the trails that crisscross up and down the summit. With a combination of 45 minutes to 5 hour walks, graded as easy, moderate and difficult, just select what's best for your group.
We chose the lengthy one-way Zamia Walk down from the summit that was one of the highlights of our visit. We saw so much of the vegetation that the park is famous for: dry vine forests, rainforests on the lower slopes, yellow stringybark forests at the summit, plus lemon-scented gums, pink bloodwoods and forest she-oaks… in all an epic hiking trail and something we highly recommend for things to do at Rockhampton!
And of course there's wildlife galore too, with blue-tongued lizards, yellow-faced whip snakes (not dangerous), skinks, and in the trees lorikeets, honeyeaters, owls and glossy black-cocatoos.
If you're around at sunset, why not follow the Nurim Circuit with a picnic – easily arranged from any of the local cafes – and sit at the top of Mount Archer or at the amphitheatre. This is a favourite pastime for locals and visitors – one of the best things to do in Rockhampton at night – so you can expect a fun time and there's often events such as sundown yoga classes or live music happening. Nocturnal animals come out to play, such as brushtail possums, flying foxes, and you're surrounded by the sound of northern brown bandicoots that run through the leaves as they search for their meals!
And if all that doesn't tempt you, how about checking out the side of Mount Archer where you'll find the oddly named, First Turkey. Rockhampton's premier mountain bike trail network, there's over 30 trails – so something for all abilities – and definitely top of the adrenaline activities in Rockhampton!
The park is open most days of the year and only closes temporarily for heavy rain. Hike, cycle or simply relax and enjoy the views!
Visit The Rockhampton Heritage Village
Take a step back in time at this township museum that showcases Rockhampton from the 1850's to the 1950's. Quaint village life is colourfully reconstructed and it's a delight to wander through this slice of Australian history.
The sprawling site, across 10 hectares of bushland, displays the colourful history of the town with a charming township and timber cutters camp with original and recreated homesteads.
Wander the wide streets, atmospherically aided by a handful of vintage cars parked throughout the site. Dive into an old fashioned blacksmith's shop, cottages, the fire station, and various other shops and dwellings. Check out the vintage machinery and, a firm favourite for younger visitors, choose to avoid or pet the friendly farm animals that are calmly wandering the village!
If you have the time, plan your visit well as every two months the Rockhampton Heritage Village hosts markets with a variety of stalls selling locally produced arts, crafts, produce and native plants.
If you're looking for things to do in Rockhampton today you might need to miss this one out – as of June 2021 the Heritage Village is temporarily closed. Thus before planning your visit check out their Facebook site for the latest news on the planned refurbishment and reopening.
Located at 296 Boundary Road, Rockhampton.
Check Out Archer Park Rail Museum
The Archer Park Rail Museum looks back at the construction of Rockhampton's railway in 1864 through to the closing of Archer Park Station in 1970. Train and history buffs will relish the many exhibitions displayed, all (of course!) with a railway or tramways theme.
Rollingstock (locomotives, carriages and wagons) and rail memorabilia are on display. And there's a unique digital soundscape system that thumps out sound effects and commentary that really brings to life the experience as you make your way through the lifelike exhibitions, filled with section cars, trolleys, signal boxes, Station Office and Refreshment Room.
And, as with many museums, the building containing the Archer Park Rail Museum is just as impressive as its interior items! Built in 1899, this architecturally stunning building was once the Central Railway Station for Rockhampton. Used until the mid-1920's, the building became home to the Archer Park Rail Museum in 1999.
Make a note that this is one of the select things to do in Rockhampton this weekend – or any weekend – as if you visit on Sundays between 10am-1pm in Feb-Nov you'll enjoy a ride on the fully restored early 1900's Purrey Steam Tram, thought to be the oldest one of its kind.
Stroll Along Kershaw Gardens
My favourite of the things to do in Rockhampton for kids is to visit this park. There's a fabulous playground designed for all ages along with a water play area, in beautiful surroundings. My four year old spent hours here and could have spent longer.
This is also one of the lovely Rockhampton places to visit for adults too. With walking tracks, a waterfall, wetlands and more, it's a great place to escape the city or to take a break from the A1 that runs along the edge of the park.
There is also a free campground here and we found quite a few caravans making use of it.
Admire The Artwork Collections At Rockhampton Art Gallery
Opened back in 1967, the Rockhampton Art Gallery showcases permanent collections that track Australia's modernist movement. Artworks from Charles Blackman, Arthur Boyd and John Brack are just some of the displayed pieces that altogether amount to one of the most significant collections in regional Australia.
Throughout the year diverse exhibition programmes run, taking works from in-house curated projects, touring exhibitions from international or national galleries, and are also drawn from the Gallery's permanent collections.
The Gallery also prides itself on a busy calendar of programmes, whereby you can learn more at art classes or workshops, and there are even special events arranged for children to get an early appreciation of art.
Currently closed, the Art Gallery is transitioning to the new Rockhampton Museum of Art and is due to reopen late 2021. Look out for our reviews of this later in the year as it's bound to remain one of the top things to do in Rockhampton.
Enjoy A Tour At Dreamtime Cultural Centre
One for all the family now, as the Dreamtime Cultural Centre introduces you to Aboriginal and Torres Strait Islander culture, history and traditions.
The only indigenous Cultural Centre in all of Central Queensland, here you'll enjoy hands-on cultural activities. Select from face-painting, didgeridoo demonstrations and dance routines which helped to make this our pick of things to do in Rockhampton for teenagers who are looking to learn more about Australian heritage.
Spread across 12 hectares of land, set out with native plants, trees and a large waterfall, enjoy an interpretive walk through the gardens. And, after you've failed miserably as we did at the didgeridoo, cross to the Nola James Building to search for authentic take-home gifts from the Bimbi Artefacts shop.
Next up, pay a visit to the Ted Mitchell Gallery which contains the renowned Vanishing Culture Of The Sandstone Belt Display. This is a quite remarkable 34-metres of reconstructed sandstone caves that depicts traditional people and the culture of the Central Queensland Sandstone Belt.
We also enjoyed the Torres Strait Islander's Complex with traditional huts, the giant dugong and unique plants native to the region. And equally popular is the Aboriginal Traditional area with replica burial sites, rock art, gunyahs and a showcase of traditional ceremonial sites of the Darambul people.
Educational, inspiring and amusing, there's lots to be enjoyed and admired here for all age groups. Guided tours operate Mon-Fri, at 1030am and 1pm, or you can simply choose to self-discover. Located on the northern outskirts of Rockhampton on the Bruce Highway, this is deservedly one of the top attractions in Rockhampton.
Explore The Capricorn Caves
Just 23km north of Rockhampton you'll find the dramatic limestone Capricorn Caves. First discovered in 1881 by a Norwegian migrant, the caves are today one of the largest privately owned cave systems in Australia.
Breathtaking acoustics, dramatic caves and lots of adventures to be had here, including abseiling, rock climbing, suspension bridges, fossicking (in search of gold!), plus a climbing wall and adventure rope obstacle course… Capricorn Caves rock!
Tours of the cave system run hourly from 9am until 4pm, whilst other activities need pre-booking. The most popular tour is the Cathedral Tour which takes you down a 1 kilometre walk through the caves, ending with an adventurous narrow, zigzag water-formed passageway only lit by candlelight or your hand-held torch. Claustrophobic? Fair to say, this is not for you!
Other tours include Capricorn Explorer and Capricorn Adventurer – both bucket-list style adventures that provide breathtaking views from the summit and take you to some of the best kept hidden secrets such as the deep vault cave and sections where your only source of light is from your headlamp. Surely one of the most thrilling activities in Rockhampton to do during your vacation!
And there's an abundance of native wildlife along the routes which your guide will help you discover. Plus listen in as your guide relates captivating stories about this ancient Australian landscape.
Winner of various ecotourism awards, the Capricorn Caves are one to add high on your list of adventure things to do in Rockhampton. And after your cave adventures, why not cool off in the onsite swimming pool, wander the visitor centre filled with interesting facts on the local geology, bats and community history or simply relax over lunch at their licensed cafe.
For a really unique adventure, if you have the time and freedom, why not experience an overnight bush stay – with cabins, camping and caravan stays available at Capricorn Caves. Campfires, the spectacular Australian sky twinkling full with stars, early morning native bird song, and wild wallabies… Can you really say no to all of that?
And if you're travelling as a couple, we found a stay overnight here to be high on the list of romantic things to do in Rockhampton.
Wander Along The Riverside Precinct
At the heart of the city, the Riverside Precinct is a modern design – sitting alongside the city's strip of heritage listed buildings – and has revitalised the Riverside district.
Offering fabulous views of the Fitzroy River (Tunuba) and the surrounding mountain ranges, the Riverside Precinct is currently the most hip of places to go in Rockhampton, being an urban public park area with playground, playful water features, amenities, local artwork and terraced landscaping.
There's shaded and outdoor seating for picnics or we can recommend The Boathouse – a modern restaurant serving fresh seafood and with a wonderful deck that hovers over the Fitzroy River.
Rich, earthy colour schemes abound, inspired from the region's history of prosperous goldmines. Natural materials are favoured, such as stone, timber, metal and glass. Stroll along the heritage soaked sandstone boulevard on Quay Street and across the lower bank boardwalk surrounded by lush plants, artworks and a picturesque boat dotted river scene.
And if you're travelling with youngsters there's a modern precinct playground that's ripe for offloading your kid's unspent energy, and can be followed by a run through the cooling pop-up water jets of the Rod Laver Plaza!
Take On A Countryside Escape At Alkoomi Adventure Farmstay
Perhaps the epitome of Australian adventures, Alkoomi Adventure Farmstay seems to have it all! Another of the best things to do in Rockhampton and one to add to your itinerary!
Fancy rustling up some cattle, taking a wagon sunset tour, going on a bushwalk, or perhaps horse riding or motorbike rides are more your thing? …and all in the spectacular Aussie Outback. Alkoomi Adventure Farmstay is your one-stop Rockhampton fun destination for unique Australian experiences.
Billed as a "fun-loving Aussie family", the owners welcome you to their cattle farm just 30 minutes south of Rockhampton. And there's nothing fake here, instead expect to get down and dirty on this working farm, participating in the real day-to-day activities that make it tick.
Assist with the animal feeding (for free!), where your younger family members can learn how the farm operates by collecting eggs, feeding the cattle and generally hanging out with the farmers. Oh, and there's pony rides too for children from 2-5 years of age. And there's more free adventures to be found at the dam, with swimming or a play on the kayaks.
Up the adrenaline with an ATV or motocross bike ride through the beautiful Central Queensland bush. Or take a ride out on their well trained horses through what feels like remote, arid lands that seem to stretch on endlessly in all directions. And the silence is notable, giving way to an understanding of just how massive Australia is.
End your day as we did, with a family Chuck Wagon Sunset Tour. It comes with some yummy cheeses, along with chilled wine or beers; the perfect way to end the day as you take in the dramatic change of colour that comes with the disappearing sun.
Staying on overnight? Would be silly not to… As the sun sets, everyone converges around the campfire pits, feeling the chill in the evening air yet relishing the warmth from the fire. And it's now time to get going with your purchased Alkoomi Beef BBQ packs for dinner!
Overnight accommodation options vary from non-powered camping sites to donga style rooms with ensuite that sleep up to 3 pax. All bookings include access to a fully equipped camp kitchen, free electric BBQ, fridge/freezer, kettle, microwave and toaster. There are free hot showers, toilets and many of the activities are thrown in for free too when you stay overnight!
After a fantastic night's sleep – with perhaps the most awesome star-studded sky we've ever seen – breakfast was a wonderful fry up of bacon and freshly laid eggs! …followed by a guided bushwalk where we encountered lots more wildlife and again couldn't get over the amazing Australian scenery.
If staying overnight, arrive by 2pm and before 6pm. Check-out is 10am. Bookings are mandatory and are made by phoning 0423216412, not via email.
Don't miss a stay here as definitely high on the list of the top 10 things to do in Rockhampton!
Visit The Beach At Yeppoon
After all your Rockhampton activities, you'll probably be in need of a relaxing day at the beach. You're in luck with Queensland's Capricorn Coast star town of Yeppoon less than 40 minutes away.
With warm weather and no bad seasons to note, this stunning coastal town is your perfect beach destination. Yeppoon's Main Street and esplanade are full of chic boutiques and surf stores, and adorned with street art murals. There's a wide range of restaurants and cafes, plus a fun water-park at the foreshore: the Keppel Kraken.
And there's Yeppoon Main Beach – right in the heart of the town. The main tourist beach in the region, it offers 1.4km of sparkling sand and amazing facilities. BBQ and picnic areas, a famed Surf Club, and the Keppel Bay Sailing Club are all beachside. There's also a new lagoon pool at the southern end of the beach with a children's playing area.
However, there are so many beaches along this famed coast that you might prefer to check out some of the other less well known spots. You'll find long and plain sandy beaches, rocky and wilder beaches great for swimming and surfing, and some bays ideal for canoeing or kayaking. Occupying more than 95km of the coastline, it's not surprising you'll feel spoiled for choice!
Some of the best include:
Zilzie Beach – the longest of three rock-dominated beaches situated south of Rocky Point. 600 metres of fine sand makes this a standout beach, and there's a cluster of palm trees at the southern end adding to the exotic feel.
Shelley's Beach – a striking gold sand beach that is perhaps the best place to explore for sea creatures in the sand and rock pools.
Emu Park Main Beach – one of the main surfing beaches, located in the middle of a green reserve.
Kinka Beach – excellent swimming facilities and a breathtakingly beautiful long beach with a mixture of low tide sand flats and ridges. At the southern protected end, you'll find a mangrove-fringed tidal creek and an amazing view of Great Keppel Island.
Mulambin Beach – wild and untouched, this is a 2km beach that is fairly unknown. Volcanic rock formations line the beach and there's picnic and bbqs areas nearby. An ideal spot for kayaking and canoeing, even fishing. Calm, safe waters also make it a fabulous spot for a dip.
Kemp Beach – visit here at sunset or sunrise, or take your kayak from here out to Bluff Rock to view dolphins and turtles.
Lammermoor Beach – another spectacular beach at 2.5km in length and near to the ferry to Great Keppel Island.
Cooee Bay Beach – with small waves, this is a great place to take younger children and is enclosed by the lovely coastal town of Cooee Bay.
All are located less than an hour's drive from Yeppoon and are some of the best nearby places to visit and things to do, Rockhampton region!
Island Hop To Great Keppel Island
You won't want to miss my favourite of the things to do near Rockhampton which is visiting Great Keppel Island.
Located just a 30-minute ferry ride from Yeppoon, this island is just perfect. There are gorgeous beaches, great snorkeling and diving, calm waters and a rainforest interior.
While I highly recommend an overnight (or longer) stay, it's also possible to visit here on a day trip. There are tours or you can simply buy return ferry tickets for the day and explore by yourself. There are places to hire snorkels, kayaks and more and to eat.
I visited here with my four year old but it's really perfect for all ages with so much fun to be had on the beaches or hiking inland if you are someone who loves getting out in nature. We loved exploring this place that's so close, yet feels so remote.
The ferry terminal in Yeppoon has free parking (with some paid, secure options nearby) and boats leave a few times a day.
This one of the places to visit near Rockhampton just should not be missed.
Click here for more information on a day tour now.
Staying overnight? Find our guide to the best Great Keppel Island accommodation here.
Best Things To Do Rockhampton, Australia Map
Best Place To Stay In Rockhampton
Looking for your ideal accommodation in Rockhampton? With hotels, motels, campsites, caravan parks, outback farm ranches and more to choose from… it's not an easy task!
To help you out, we've listed below a few of the different places to consider – recommending an expensive, midrange and budget option.
Our top pick of accommodation in Rockhampton, located on the picturesque banks of the Fitzroy River, these apartments are ideal for couples or small families seeking a luxury stay only walking distance to the CBD.
Enjoy air-conditioned apartments with your own kitchenette or kitchen with an oven, a stove and microwave. There's a separate seating area with flat-screen TV and cable channels, and a selection of premium movie channels. You'll find an iPod dock, DVD player, radio and minibar, plus a safe, hair-dryer and iron.
The majority of apartments come with balcony, and room types include a Studio with an extra large double bed, a One-Bedroom Apartment, a Two-Bedroom Apartment with both 2 single beds and 1 large double bed, and likewise One and Two-Bedroom Apartments with River Views. If budget allows, definitely take the River View option!
Guests are offered free parking, free WiFi, daily housekeeping, a self-service laundry area and a chargeable dry cleaning service. There's a great Fitness Centre, and the 24/7 Reception offers luggage storage and express check-in/check-out services. Breakfast packs can be arranged and staff can help you find nearby restaurants for dinner.
Ideally located at only five minutes drive from Rockhampton train station and ten minutes from the Botanic Gardens, the Zoo and Dreamtime Cultural Centre, and next door to the Art Gallery, Quest Rockhampton is our top pick!
Click here to see the latest prices.
If you're travelling with kids or looking for the best Rockhampton accommodation option with a swimming pool, look no further! Glenmore Palms Inn is only a ten minute drive from the heart of Rockhampton and stars as our mid-range pick.
Rooms are all fully air-conditioned and feature a dining area, fridge and tea/coffee making facilities. There's a small seating area and a desk, a large LCD flat-screen TV and Foxtel. And some rooms come with a kitchenette and patio area.
The 38 ground floor rooms are of modern design and come in Twin, Queen or Family Rooms with 2 single beds and 1 large double bed. Alternatively, splurge on their Suite Room that has 1 single bed, 1 extra-large double bed and a cosy sofa bed. All units are non-smoking and come with ensuite showers, plus interconnecting rooms can be arranged for larger groups/families.
Free parking is available for guests, there's daily housekeeping, laundry facilities, luggage storage, free WiFi, and the tropical swimming pool – that's complete with sun loungers and beach towels.
The Inn has an in-house restaurant and bar, with a children's menu on offer. They also offer an in-room dining option for breakfast if you fancy a lazy start to your day, and you can cook up your own BBQ for lunch or dinner in the communal facilities area.
Located at the Glenmore Shopping Village, there's a handy supermarket and chemist nearby, plus many food outlets for your dining needs. The Rockhampton Heritage Village, Rockhampton Art Gallery and CBD are all less than 10 minutes drive.
Click here to see the latest prices.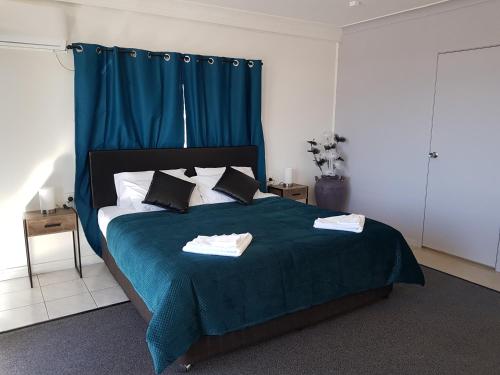 These days "budget" doesn't mean lacking in services and The Q Motel Rockhampton certainly holds its own with a great range of services and amenities!
Centrally located – at just 4km from Rockhampton Airport – the Motel has its own restaurant and bar, offers free WiFi to inhouse guests, plus bookings come with a free continental breakfast that has a surprisingly large spread!
The 32 rooms are all air-conditioned and come in many shapes and sizes. There's Executive Queen Rooms with Balcony, Deluxe Queens and Standard Twins. Family Rooms sleep 5 across 3 single beds and 1 double bed, or larger Family Rooms for 6 with an additional single bed can be arranged. Self-contained Suites sleep 4 or 5 adults – recently refurbished and coming with sliding doors leading to private balconies – and there's a special King Suite with Spa Bath ideal for couples.
Some of the Family Rooms come with kitchen facilities and there is a communal BBQ outdoor area and a laundry facilities site. Decor is cosy, with bright bedspreads and throw cushions, and all rooms come with a microwave oven, electric kettle and kitchenware. Toiletries, hairdryers, ironing facilities and bath towels are also provided.
Located near to the Rockhampton Golf Course and Rockhampton Botanical Gardens, the Aboriginal Dreamtime Cultural Centre is only 15 minutes drive away.
Click here to see the latest prices.
How To Get To Rockhampton
It's easy to get to Rockhampton by plane, bus, train or car. If you have your own car, great! You are good to go.
Reaching Rockhampton is quite easy as there are regular flights and buses available from Brisbane, Sydney and Townsville with connections on most of Australia's major cities and in between. If you opt on taking the train, the Queensland Rail services run from Brisbane, Cairns and most major cities along Queensland's east coast.
To see all the latest flights and prices, click here.
We flew to the Sunshine Coast and explored the Queensland coast up to Rockhampton and beyond with a hire car. From Maroochydore Airport, it's about a six hour drive. If you fly into Rockhampton, I also recommend a hire car to get around.
Check out hire car prices by clicking here.
Rockhampton With Kids
There's loads to keep kids engaged and happy, with a myriad of things to do in Rockhampton, Queensland, that all come with a high level of fun and education mixed in!
Start your visit with a full day at the Botanic Gardens including dropping by Rockhampton Zoo with its animal feeding sessions, amusing chimpanzees and enormous crocodiles! Next up, head to the Outback at Alkoomi Adventure Farm Stay for hands-on cattle feeding, pony rides, cowboy-styled wagon rides and unforgettable family evenings around campfires under star-filled night skies.
Follow that with a day at one of the spectacular Yeppoon beaches – perhaps with a surf lesson or exploring calm seas by kayak. For younger children, there's the Kershaw Gardens to explore and the more modern Precinct playground and water play area, where kids exhaust themselves trying to guess where the next water spout will explode from!
For older children, Australia's culture awaits discovery at the Dreamtime Cultural Centre or dare them to ride the exhilarating mountain bike trails at Mount Archer. All the family will appreciate the epic views from Mount Archer's Nurim Boardwalk.
And we haven't even touched on the Capricorn Caves – with caverns to explore and rock climbing adventures – or the Archer Park Rail Museum with fun old-styled carriages and mock-stations to play in, or epic Great Keppel Island with snorkelling and glass-bottom boat rides ideal for your budding marine biologists! The list is endless of things to do in Rockhampton with kids.
Plus, with so many of the activities free of charge and ensuring kids are spending time out in nature away from the internet, parents will be as happy as the kids in Rockhampton!
Final Words
A slice of Aussi life that shouldn't be missed, whether you're travelling solo, in a group or with family, add Rockhampton to your next Queensland itinerary!
I hope you found this guide to things to do in Rockhampton Qld useful. Read more Queensland travel guides here and find my guides to nearby Great Keppel Island here and Gladstone here. You can also read about Bargara/Bundaberg here.